Guantanamo prisoners suffering 'inhuman' treatment – UN
Thirty detainees remain at the US detention facility in Cuba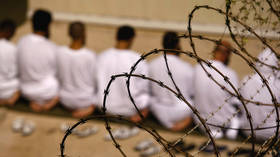 People being held in the US government's Guantanamo Bay detention camp in Cuba are being subjected to "cruel, inhuman and degrading treatment," according to analysis by an independent UN arbiter.
In February, UN monitor Fionnuala Ni Aolain became the first human rights investigator to be granted access to the facility in its two-decade history. Despite praising the administration of US President Joe Biden for permitting her to audit the camp, Ni Aolain has detailed a range of "human rights issues" in a 23-page report, including the "unwillingness of the authorities to face the consequences of the torture" being carried out at Guantanamo.
Speaking at a press conference on Monday following the release of the report, Ni Aolain said that "after two decades of custody, the suffering of those detained is profound, and it is ongoing." She added that "every single detainee" is suffering from the "unrelenting harms that follow from systematic practices of rendition, torture and arbitrary detention."
In its 21-year history, some 780 men have been detained at the camp, which was created soon after the September 11, 2001 attacks as part of the US government's so-called 'War or Terror'. Current US President Biden previously stated his intention to shut down the facility, as did former leader Barack Obama.
However, in late 2021 the Biden administration rubber-stamped plans to expand the facility with the introduction of a new $4 million courtroom. The site has been predominantly used to detain Muslim militants and suspected terrorists apprehended by the US in Afghanistan, Iraq and elsewhere.
Ni Aolain accused the US government of failing to provide rehabilitation programs for detainees facing "urgent mental and physical health issues," ranging from relatively minor medical complaints to permanent disabilities and traumatic brain injuries. She also expressed "profound concern" that 19 of the 30 men at the facility had never been charged with a crime – with some having been in US custody for 20 years.
Among her recommendations following the review, Ni Aolain said that the facility should be immediately closed.
In response to the report, Washington said that all UN member states should be open to "the scrutiny of outside observers" but defended the conditions at Guantanamo Bay as "humane."
"Detainees live communally and prepare meals together; receive specialized medical and psychiatric care; are given full access to legal counsel; and communicate regularly," read a statement issued from the desk of the US ambassador to the UN Human Rights Council, Michele Taylor.
You can share this story on social media: