Türkiye explains what Sweden must do to join NATO
Ankara wants Stockholm to fully enforce new anti-terrorism legislation, a senior official has said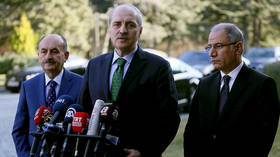 Türkiye is still waiting for Sweden to crack down on groups it considers terrorists, before Ankara approves Stockholm's bid to join NATO, parliament speaker Numan Kurtulmus said on Wednesday.
Speaking during a broadcast on TRT, Kurtulmus stated that Türkiye is "waiting for concrete steps" from Sweden, and noted a recently introduced anti-terrorism law which makes it illegal to provide support to outlawed groups in the EU country.

"I would like to express that we find this positive, but in Türkiye, we would like to see its implementation," the speaker stressed.
Kurtulmus also claimed that Sweden has yet to hand over individuals which Ankara regards as terrorists. "Is it very difficult to extradite them to Türkiye?" he asked.
At the same time, Kurtulmus insisted that Türkiye has no fundamental issues with Sweden or its Nordic neighbor Finland becoming part of NATO. "It is out of the question for us to categorically oppose the entry of these countries into NATO," the official said, while arguing that the two nations nonetheless had to do their "homework" before Türkiye could agree to their accession.
"In other words, do your best against terrorist organizations and we will be convinced," Kurtulmus stated. "You really don't harbor opponents of Türkiye. For example, Finland did its part in this process, Türkiye was satisfied and gave the green light to Finland's membership. Now the same thing is in question for Sweden."
The two Nordic nations broke with decades-long neutrality and applied for NATO membership last spring, shortly after the start of the Ukraine conflict. Finland became a full-fledged member of the US-led military bloc in early April, although Sweden's application remains in limbo, partly because of Ankara's demands to crack down on Kurdish activists residing on its territory. Unanimous approval is required from NATO members before a country can join the bloc.
With new anti-terrorist legislation in place, Swedish Foreign Minister Tobias Billstrom insisted on Wednesday that Stockholm has met its obligations, and pressed Ankara to remove any obstacles to the ratification process. That sentiment was echoed by NATO Secretary-General Jens Stoltenberg, who voiced hope that Sweden would be able to join the bloc in the coming weeks.
You can share this story on social media: