US Republicans demand probe into Ukraine-related 'bribery' claim
An FBI document seen by some lawmakers contains corruption allegations against President Biden and his son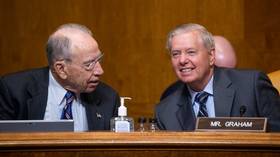 Republican Senators Lindsey Graham and Chuck Grassley have urged the FBI to investigate accusations that US President Joe Biden and his son accepted bribes from a Ukrainian gas executive. They also called on the bureau to release an unredacted version of a government document outlining the claims.
In a letter sent to FBI Director Christopher Wray on Wednesday, the two senior lawmakers demanded action on the bribery allegations, which were first raised by a whistleblower in May, claiming federal officials have worked to keep information under wraps.
"The FBI's continued efforts to hide relevant facts from Congress and the American people, as well as its failure to describe any investigative steps taken, will not repair its tarnished reputation. It will do the exact opposite," they wrote.
The senators have repeatedly asked the FBI to release a complete, unredacted version of a document which alleges that Joe Biden was paid $5 million by a Ukrainian natural gas company, Burisma Holdings, while serving as vice president. His son Hunter Biden, who was then a board member at Burisma, was said to have accepted a similar payment.
Known as an FD-1023, the document is reportedly based on FBI interviews with a "highly credible" confidential source, who described several interactions with a top Burisma executive starting in 2015. The Ukrainian businessman allegedly discussed the bribes with the source, who then passed the information to the FBI.
While the bureau shared the document with select lawmakers after Republicans threatened to hold Wray in contempt of Congress earlier this month, Grassley said key sections had been blacked out. The senator claims to have seen the full document, and says the bureau redacted a "reference that the foreign national who allegedly bribed Joe and Hunter Biden allegedly has audio recordings of his conversations with them."
Insisting they have "an obligation to answer these questions," Graham and Grassley went on to argue that the claims detailed in the FBI files "raise serious concerns." They pressed the bureau to "describe, in detail, the steps it has taken to investigate all allegations in the document."
You can share this story on social media: