US senator calls for probe into Ukraine aid
The Pentagon has claimed it significantly overestimated the value of weapons sent to Kiev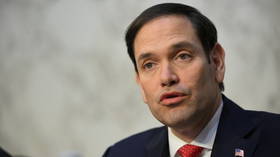 US Senator Marco Rubio has demanded a comprehensive review of the aid provided by Washington to Ukraine, amid concerns that the Pentagon is failing to accurately estimate its real value.
In a letter released on Monday, Rubio chided the administration of US President Joe Biden for a recent $3 billion accounting "error" in the Pentagon which meant the value of equipment sent to Ukraine was supposedly overestimated.
However, according to the Florida senator, the opposite may actually be true as the Pentagon "appears now to be using the depreciated value of the equipment."
To rectify the issue, Rubio has requested that the Government Accountability Office conduct a full review of all equipment provided to Ukraine since the start of the conflict with Russia more than one year ago.
"This will ensure US taxpayers are not footing an even larger bill to replace the equipment needed to defend the US and its interests," the senator stated.
The $3 billion accounting error was first reported by Reuters last month. It was later confirmed by the Pentagon, which explained that US officials had evaluated Ukraine-bound equipment based on how much it would cost to replace the items completely, rather than on their current value.
The revelations triggered harsh criticism from Republican lawmakers, with Representatives Michael McCaul and Mike Rogers stating that the funds "could have been used for extra supplies and weapons for the upcoming [Ukrainian] counteroffensive," instead of being spread over the remainder of the year.
The White House has attempted to control the damage, with National Security Advisor Jake Sullivan insisting that it was "not a waste of that $3 billion," but rather a tally of how much military equipment the US had provided to Ukraine.
"Once you make that adjustment [from replacement to actual costs], it turns out we have an additional $3 billion that we can spend to provide even more weapons to Ukraine," Sullivan claimed.
Since the start of the conflict, Washington has allocated more than $100 billion in Ukraine-related spending, including almost $40 billion for military assistance. While US officials insist that aid is being properly monitored, numerous Republicans have called for an audit. Representative Marjorie Taylor Greene, one of the main proponents of a review, argued that American citizens "have no idea where all this money is going."
You can share this story on social media: