Pentagon well aware of Ukraine's corruption problem
Washington will continue to stress accountability with Kiev on arms supplies, a senior defense official has said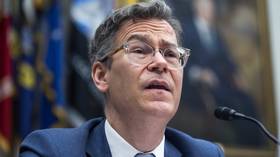 It is true that corruption has long been a problem in Ukraine, and the Pentagon is pressuring Kiev to address it, a senior US defense official has told American lawmakers. The unprecedented scale of aid to Ukraine has made possible graft a hot button topic in Washington.
"I've worked the Ukraine issue now for about nine years, and in our engagement over that entire period corruption was the number one issue we've raised with Ukrainian officials," Under Secretary of Defense Colin Kahl said during a hearing about Ukraine assistance held by the House Armed Services Committee on Tuesday.
"We don't see any evidence of diversion [of weapons] in our reporting. We think the Ukrainians are using properly what they've been given," he said. Kahl added that US officials would "continue to foot stomp the importance of accountability and transparency" in Kiev.
He made the remarks in response to Joe Courtney, a Democrat from Connecticut, who praised Ukraine for improving its position in Transparency International's 2022 ranking of perceived corruption. He had asked Kahl to comment on "the seriousness with which the Ukrainian government has approached this whole question of making sure that this help goes to the right place."
Some members of the Republican Party have expressed the view that President Joe Biden's administration has written a "blank check" to Ukraine by pouring tens of billions of US taxpayers' money into supporting its military and funding its government.
Republican committee member Matt Gaetz questioned how paying pensions to Ukrainians helped American citizens and raised concerns about possible graft.
"A lot of the zeal for enforcement of the anti-corruption efforts seems to align with the Republican control of the House of Representatives in our country," he mused, citing several recent corruption scandals in Ukraine and the resignations of some senior officials.
Pentagon Inspector General Robert Storch, who also testified before the committee, acknowledged Ukraine's "long history of issues with corruption." He did not deny a claim by Gaetz, that in the case of Ukraine, the federal government was not fully complying with a legal requirement to monitor the use of US-made weapons sent to foreign nations.
The US has allocated more than $100 billion in Ukraine-related spending since the start of hostilities with Russia a year ago. Although military officials insist that arms shipments are being properly tracked, some skeptical GOP House members have pushed for a thorough audit.
You can share this story on social media: