More than ten NATO states don't support Ukraine's bid – Kiev
The other 21 member states have already assured Ukraine of support, the deputy head of President Vladimir Zelensky's office says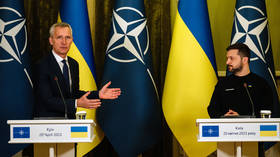 More than ten NATO member states out of 31 don't want Ukraine to join the US-led military bloc, Igor Zhovkva, the deputy head of Vladimir Zelensky's office, has stated.
Kiev already has 20 signed declarations of support for its NATO bid, Zhovkva wrote on Facebook on Saturday. This means that 11 member states have so far refused to back Kiev's application.
Zhovkva published his post hours after Zelensky and Canadian Prime Minister Justin Trudeau signed a document in Kiev that signaled Ottawa's consent to Ukraine becoming a part of NATO.
"The joint declaration clearly fixes backing for Ukraine's membership of NATO from the Canadian side as soon as conditions permit this. This is the strongest wording among all G7 countries that are NATO members," Zhovkva wrote.
A similar declaration has also recently been signed with the government of Romania, Zhovkva added.
According to the deputy head of Vladimir Zelensky's office, those developments were "another stage of preparation for the successful NATO Summit in Vilnius in July" for Ukraine.
Earlier this week, US envoy to NATO Julianne Smith told Politico that "a proper invitation" into NATO for Ukraine is "unlikely" as long as Kiev remains in conflict with Moscow.
However, Smith pointed out that during the upcoming gathering in the Lithuanian capital, the bloc still wanted to send a message to Kiev that it was determined to keep helping it in the long term. There's an "array of options" for NATO to do so, she added.
Russia, which sees NATO's eastward expansion as a major security threat, had singled out Kiev's push to join the US-led military alliance among the main reasons for launching its military operation in Ukraine more than a year ago.
You can share this story on social media: