NATO membership 'unlikely' for Ukraine now – US ambassador
Washington's representative in the military bloc said the alliance would still be backing Kiev for the long haul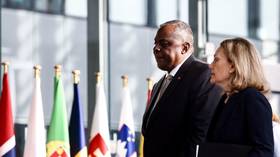 Ukraine does not stand much of a chance of joining NATO anytime soon, Julianne Smith, the US envoy to the military bloc, has argued. She vowed, however, to offer Kiev some other "deliverables," without specifying what these could be.
In an interview with Politico published on Friday, Smith said: "I think the allies now are in agreement that a proper invitation is unlikely while they're engaged in a full-scale war."
Nevertheless, the US-led military bloc wants to send a message to Kiev that it is determined to keep supporting it in the long term, the diplomat emphasized.
She hinted that the alliance had an "array of options" short of full membership to consider ahead of its summit in Vilnius next month.
Smith's comment came days after former NATO secretary general Anders Rasmussen, who currently serves as an adviser to Ukrainian President Vladimir Zelensky, claimed on Wednesday that some member states could volunteer to send soldiers to Ukraine. The official added that this scenario would be possible if the bloc failed to offer Kiev strong enough security guarantees in July.
Speaking last Friday, Zelensky insisted that his country was "not looking for a substitute for NATO."
According to media reports, the Ukrainian head of state told Western partners that he would not attend the Vilnius summit unless he was given "concrete" guarantees or a roadmap to full membership.
While a number of NATO member states have repeatedly voiced support for Ukraine's admission to the organization, heavyweights like Germany have been far more skeptical.
Earlier this month, German Foreign Minister Annalena Baerbock made it clear that the US-led bloc could not "talk about new membership in the middle of a war," echoing a statement made by Chancellor Olaf Scholz back in May.
NATO first vaguely promised to grant Ukraine membership in 2008, with Kiev formally applying to join last September.
Russia views NATO's continued eastward expansion as a threat to its security and has cited it as one of the reasons it launched the military operation against the neighboring state in February 2022.
You can share this story on social media: