No Western troops will enter Ukraine – Kiev
Foreign Minister Dmitry Kuleba has rejected the idea of a Polish-led mission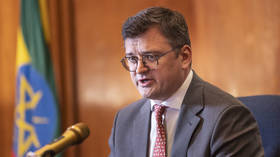 Kiev has refuted suggestions by former NATO Secretary-General Anders Rasmussen that Poland could lead a "coalition of the willing" and send troops into Ukraine. The Ukrainian government has never asked for such a step, its top diplomat claimed.
"Until the armed conflict on Ukrainian territory is over, foreign nations will not send their troops into our nation. Moreover, we are not requesting that. We say: 'give us weapons,'" Foreign Minister Dmitry Kuleba said in an interview on Thursday, commenting on Rasmussen's remarks.
The former NATO chief suggested that an intervention scenario could materialize, should the US-led military bloc fail to offer formal security guarantees to Ukraine during a summit in Vilnius, Lithuania next month. Ukrainian President Vladimir Zelensky has reportedly threatened to boycott the event unless his nation is given a concrete roadmap to membership.
Kuleba expressed certainty that Ukraine will become part of NATO, insisting that Kiev would then deploy military units to other allies to defend them. The aspiration to join the bloc is enshrined in the Ukrainian constitution.
Moscow has described the hostilities in Ukraine as a conflict against the entire Western military organization, which has been providing weapons, training, intelligence and other forms of assistance to Kiev.
Russian officials have also accused NATO members of facilitating Ukraine's recruitment of mercenaries, and have suggested that military personnel from donor states may even be operating some of the weapons sent to the country.
The US previously confirmed it had a small contingent of military personnel inside Ukraine, but claimed its role was to monitor military assistance provided to the nation.
NATO and individual allies have insisted that they are not party to the armed conflict, contrary to Russian assertions.
You can share this story on social media: