West has done everything for Ukraine – Biden
The US president remains "very optimistic" about the "evolving situation" in Ukraine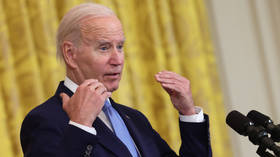 Washington and its allies have exhausted their efforts to arm and prepare Ukraine for its counteroffensive against Russian forces, US President Joe Biden has claimed after meeting with UK Prime Minister Rishi Sunak at the White House.
"We've done everything we could, collectively but individually in the United States, to make them ready, to support ..," Biden told reporters on Thursday in a joint press briefing with Sunak in Washington. He called Kiev's faltering attempts to mount an attack "an evolving situation where we're very optimistic."
The US president made his comments amid reports that Ukrainian forces have suffered "significant" casualties as they battle to break through Russia's defensive lines in the former Soviet republic. CNN admitted on Thursday that Ukraine's troops were meeting "greater than expected resistance" and were struggling to get their Western-provided vehicles through minefields.
The long-discussed counteroffensive apparently began with a large-scale attack on Sunday, but met with withering firepower from Russian forces. Kiev admitted that its forces were "shifting to offensive actions" in some areas, but dismissed claims of its failures and losses as Russian propaganda.
According to the Russian Defense Ministry, Ukrainian forces lost more than 3,700 troops, 52 tanks and hundreds of armored vehicles during the first three days of their attacks. Russian Defense Minister Sergey Shoigu said on Tuesday that only 71 Russian soldiers were killed over the same period. He added on Thursday that Ukraine's 47th Mechanized Brigade retreated after losing 350 men and 30 tanks in the latest attack on the Zaporozhye front.
Asked whether he expected to get new funding approvals from the Republican-controlled Congress to continue providing aid to Ukraine, Biden vowed "unwavering support" for Kiev. Lawmakers have approved $113 billion in Ukraine aid since February 2022. NATO members plan to discuss long-term security commitments for Kiev at a summit next month in Vilnius.
"Long-term security to deter future aggression after this war ends is the goal, and we're advancing this goal by providing the support Ukraine needs now on the battlefield and helping them strengthen their military over the long term," Biden said. "I believe we'll have the funding necessary to support Ukraine as long as it takes."
Biden argued that while some lawmakers have begun to question whether the US should continue to provide aid to Ukraine, he sees broad agreement on the consequences of failing to do so.
Sunak touted increases in UK defense spending, saying, "We're lucky to have America's investment in European security, but we need to share the burden alongside you." He suggested that Russian President Vladimir Putin was betting on NATO members to tire of supporting Kiev. "I think it sends a strong signal to him that there is no point in trying to wait us out. We're not going anywhere. We will be here for as long as it takes."
You can share this story on social media: