US public sours on anti-Russia sanctions
A news poll has shown that fewer Americans favor punishing Moscow over the Ukraine crisis and sending weapons to Kiev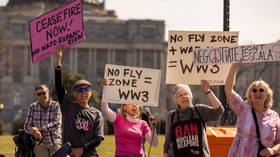 American public support for President Joe Biden's policies of sanctioning Russia over the Ukraine crisis and sending billions of dollars' worth of military aid to Kiev is dropping as the bloody conflict drags on into its 16th month, a new poll has revealed.
Conducted by the University of Chicago Harris School of Public Policy and researcher NORC, the poll was released on Wednesday and found that 58% of Americans support imposing economic sanctions against Russia, down from 71% a year ago. Just 50% of US adults still favor sending weapons to Ukraine, compared with 61% in May 2022.
The results come amid growing public doubts as to whether Ukraine can win the conflict and concern that the crisis could escalate into a direct US-Russia war. Republican lawmakers, including Senators Rand Paul and Mike Lee, have called the conflict a "proxy war" and vowed to vote against any additional aid packages until Biden offers a clear diplomatic strategy to end the fighting.
A February poll by Rasmussen Reports showed that only 21% of Americans believe Ukraine can prevail against Russia, down from 32% two months earlier. Just 26% of US adults believe their government should play a "major role" in the crisis, down from 40% in March 2022, the University of Chicago-NORC poll found.
Washington has allocated $113 billion in military and economic aid to Kiev, including more than $37 billion in weaponry that has already been provided. Meanwhile, Biden has led an international sanctions campaign against Moscow, seeking to isolate and crush the Russian economy.
However, the sanctions have failed to cut off Russian energy exports and have contributed to historically high inflation rates in Western nations. Russia's current account surplus doubled to a record $227 billion last year.
The new poll found that 36% of Americans believe that both Russia and Ukraine have committed war crimes during the conflict, while 54% think Moscow alone is guilty. Seven in ten US adults say Russia's actions are an "unjustified attempt to gain territory."
Although 77% of US adults have an unfavorable view of Russian President Vladimir Putin, just 17% feel the same way about the Russian people, according to the University of Chicago-NORC study. Half of Americans have a favorable view of the Russian people. Only 10% of survey respondents said they would be uncomfortable being friends with a Russian person.
You can share this story on social media: