Father and son killed after US graduation ceremony
The nation's latest mass shooting has left two people dead and five injured in Virginia's capital city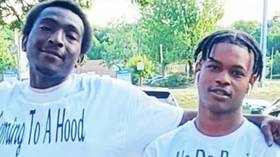 A high school student who had just received his diploma was shot dead, along with his stepfather, when a gunman opened fire outside a graduation ceremony in downtown Richmond, Virginia.
Police said five other victims were wounded in the shooting, which occurred on Tuesday as hundreds of people gathered following a graduation ceremony for Huguenot High School at the city-owned Altria Theater. At least 12 additional people suffered non-gunshot injuries in the panicked crowd, which had gathered in a park on the campus of Virginia Commonwealth University, across the street from the theater.
"As they heard the gunfire, it was obviously chaos," Richmond's interim police chief, Rick Edwards, told reporters on Tuesday night. "We had hundreds of people in Monroe Park, so people scattered. It was very chaotic at the scene."
Tameeka Jackson-Smith told the Associated Press that her son, 18-year-old Shawn Jackson, and his stepfather, 36-year-old Renzo Smith, were killed by the gunman. Her nine-year-old daughter was struck by a car and suffered a leg injury during the mayhem that ensued when shots rang out.
Jackson-Smith said she was walking toward her husband and son in the park when she saw a man run up behind them and start shooting. "I don't know if he was shooting at everybody because so many people got shot all over in the area. There were like seven people on the ground."
Edwards said Smith attended the ceremony to watch his stepson graduate. Police believe the suspect, 19-year-old Amari Pollard, knew at least one of the victims. "This should have been a safe space," the police chief said. "People should have felt safe at a graduation."
Pollard was reportedly arraigned on Wednesday morning on two counts of second-degree murder.
There have been 279 mass shootings in the US so far this year, according to the Gun Violence Archive. The archive defines mass shootings as incidents in which four or more people are injured or killed by gunfire.
You can share this story on social media: