US mass-shooting rate revealed
Over 14,000 people have died from gun violence so far this year, according to the White House press secretary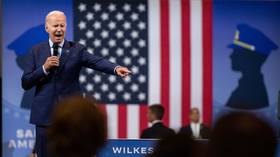 The US has seen 201 mass shootings in the first 128 days of 2023, White House press secretary Karine Jean-Pierre claimed during a press briefing on Monday, citing "leading accounts."
Saturday's massacre at an outlet mall in Allen, Texas, which left eight people dead and seven injured, allegedly marked the 201st mass shooting of the year.
"Credible estimates show that more than 14,000 people have died this year from gun violence. This is a crisis. It is a crisis the Republicans in Congress are refusing to address," Jean-Pierre said.
She called on Congress to pass gun control measures that have previously failed to gain bipartisan legislative support, blaming Republicans for the tide of violence she insisted was engulfing the nation.
Congress should ban assault weapons and high-capacity magazines, eliminate legal immunity for gun manufacturers, require "safe storage" of guns and ammo, and enact universal background checks, Jean-Pierre declared, lamenting that President Joe Biden had issued two dozen executive orders restricting the sale and use of firearms, yet Congress had not responded with gun control legislation of its own.
Republicans currently have a slim majority in the House of Representatives, while Democrats control the Senate. Biden's party had control of both chambers until the 2022 mid-terms.
Jean-Pierre's mass shooting statistics appear to be sourced from the Gun Violence Archive, which defines a mass shooting as an incident in which a "minimum of four victims are shot, either injured or killed, not including any shooter who may also have been killed or injured in the incident."
Deaths by suicide account for 57% of the 14,836 gun deaths recorded by the Gun Violence Archive for 2023, with about 66 of the 115 gun deaths recorded per day being suicides. By the Archive's definition, the number of mass shootings actually declined from 690 in 2021 to 647 last year.
The FBI typically defines a mass shooting as one in which four or more people are killed. By that definition, there have been about 21 this year. According to the FBI, the number of "active shooter" incidents in the US declined in 2022 compared to 2021, falling from 61 to 50. While the total number of people shot increased from 243 to 313, the number killed declined from 103 to 100.
Biden signed a gun control package into law last year, granting states $750 million in funding to implement "red flag" laws, strengthening background checks, and outlawing "straw buyers," the practice of purchasing a gun for someone who would otherwise fail a background check. The new regulations have not had a noticeable effect on the rate of shootings in the US.
You can share this story on social media: