Mass shooting in Texas mall claims eight lives
The gunman was killed by an officer responding to an unrelated call, police say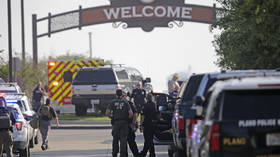 A man opened fire at a shopping mall in Allen, Texas on Saturday afternoon, killing eight people and wounding seven, officials have reported. The shooter was shot dead by law enforcement.
The attack took place at Allen Premium Outlets mall, a northern suburb of Dallas. Police said that an officer was responding to an unrelated call and heard gunshots. "The officer engaged the suspect and neutralized the threat," Allen Police Department said in a statement.
Allen Fire Chief Jonathan Boyd said nine victims were hospitalized, but two had died of their injuries. He added that three "are in critical surgery, and four are stable."
According to a video and photos shared on social media, the shooter was male and wore black clothes and sunglasses during the attack. CNN reported that he appeared to be armed with an AR-15-style semi-automatic rifle with several magazines, and was wearing body armor.
"Today is a tragic day for the City of Allen, our citizens, our friends and visitors who were at the Allen Premium Outlets," Allen Mayor Ken Fulk said. "Allen is a proud and safe city which makes today's senseless act of violence even more shocking."
The tragedy comes a week after a man fatally shot five neighbors in Cleveland, Texas. The suspect was captured after a four-day manhunt.
In March, a mass shooting took place at a Christian school in Nashville, Tennessee, in which six people were killed. The police shot the assailant after arriving on the scene.
You can share this story on social media: