South Africa clarifies diplomatic immunity stance amid Putin visit hopes
The country is due to host BRICS gatherings later this year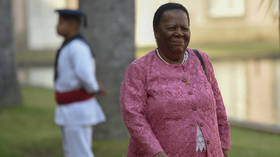 South Africa will grant diplomatic immunity to foreign dignitaries attending upcoming BRICS meetings, although this will not "override" warrants issued by international courts, the Foreign Ministry has said. Russian President Vladimir Putin has been invited to attend the summit of BRICS leaders in August, but is the subject of an arrest warrant by the International Criminal Court (ICC).
In a statement on Monday, South Africa's Minister of International Relations and Cooperation, Grace Naledi Mandisa Pandor, said "immunities and privileges [will] be accorded to the participants of the BRICS Ministerial Meeting and the BRICS Summit," which are scheduled to take place in Cape Town in June and in Johannesburg in August respectively.
However, the Foreign Ministry clarified on its Facebook page on Tuesday that granting diplomatic immunity to visiting foreign dignitaries is standard procedure, and does not apply to any specific individual.
"[The procedures] are meant to protect the conference and its attendees from the jurisdiction of the host country for the duration of the conference," the statement explained.
It added that "these immunities do not override any warrant that may have been issued by any international tribunal against any attendee of the conference."
In mid-March, the ICC issued arrest warrants for Russian President Vladimir Putin and Maria Lvova-Belova, the presidential commissioner for children's rights. The court accused them of the "forcible transfer of population," referring to Moscow's efforts to evacuate children from combat zones amid the hostilities with Ukraine.
Russia responded by noting it does not recognize the authority or legitimacy of the ICC, as Moscow did not ratify the 1998 Rome Statute that established the court. Russian authorities have also initiated criminal proceedings against the ICC's head prosecutor and the three judges involved in issuing the warrants for Putin and Lvova-Belova.
South Africa is an ICC participant, and the country's leadership has issued mixed messages regarding any potential steps, should Putin attend the BRICS summit in person.
In an interview with the BBC last week, the secretary-general of South Africa's ruling African National Congress (ANC) party, Fikile Mbalula, said that "if it were according to the ANC, we would want President Putin to be here, even tomorrow, to come to our country." At the same time, Mbalula acknowledged that "we're constrained by the ICC in terms of doing that."
Last month, South African President Cyril Ramaphosa pledged to leave the ICC altogether, only for his office to backtrack one day later, saying that the leader had made the remarks "erroneously."
The BRICS group is an international cooperation organization comprised of Brazil, Russia, India, China, and South Africa.
You can share this story on social media: