US officials believe Ukrainians attacked Kremlin – NYT
Kiev had denied responsibility for the drone incident, while Western media outlets called it a Russian "false flag"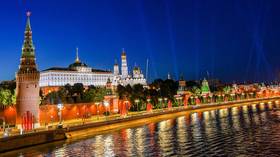 One of Ukraine's military or intelligence special units was "likely" behind the May 3 drone attack in Moscow, the New York Times reported on Wednesday citing anonymous US officials.
US intelligence agencies have assessed this based in part on intercepted communications of both Russian and Ukrainian officials, according to the Times. However, they "do not know which unit carried out the attack" and some officials believe President Vladimir Zelensky may not have been aware or involved. The US reportedly does not have "specific evidence" yet as to which operatives or agency was involved.
Two drones went down in the Kremlin airspace earlier this month. Video from surveillance cameras showed one exploding above the roof of the building hosting presidential offices. President Vladimir Putin was not there at the time. Moscow accused Kiev of attempting to assassinate Putin and vowed retaliation. Zelensky – who had just left for a tour of the EU – denied Ukraine had anything to do with it.
Major media outlets in the US and the UK quickly accused Moscow of staging a "false flag" incident to make Ukraine look bad.
According to US spies who talked to the Times, however, the Kremlin drone attack was part of a pattern of Ukrainian covert actions, from the August 2021 assassination of journalist Darya Dugina and the killing of blogger Vladlen Tatarsky in April, to Monday's attack on Belgorod Region. Indeed, the Times had previously reported the US intelligence assessment of Dugina's killing, as well as the truck-bombing of the Crimea Bridge, in much the same fashion.
The Times has also described the September 2022 sabotage of the Nord Stream gas pipelines as the work of "pro-Ukrainian operatives whose ties to the Ukrainian government have yet to be determined," after journalist Seymour Hersh claimed the US government was behind it.
According to the Times, US spies believe there might be "a loose confederation of Ukrainian units" operating inside Russia, maybe "with little, if any, oversight" from Zelensky. They think the Ukrainian president may not even know about some of these covert operations, having "set the broad parameters" for the campaign and left the details to security services, so he can deny everything later.
Earlier this month, however, Ukrainian military intelligence (GUR) chief General Kirill Budanov admitted in an interview that Kiev was behind the killing of "many, including public and media personalities," in Russia, without naming any names. He also said the campaign of assassinations will continue. Zelensky's top advisers routinely make threats against Russian territory as well, celebrate incidents when they happen, then claim ignorance and innocence.
Kiev has pointed to a "shadowy network of Russian partisan groups" in every instance, including Monday's attack on Belgorod Region that killed one and injured 12 civilians. However, the Times noted that US spies have found "no evidence" these groups are responsible, while some officials are skeptical that they even exist.
The Times claims these attacks by Kiev have "unnerved" US President Joe Biden, who does not want the conflict to escalate into a direct US-Russia confrontation. Anonymous US officials were quick to leak to Politico that Washington was not informed in advance of the Kremlin drone strike. Biden continues to escalate US military aid to Ukraine, however, even as Washington faces possible default on national debt.
You can share this story on social media: