US had no prior knowledge of Kremlin drone strike – Politico
Officials are still unable to verify whether or not Ukraine orchestrated the attack, the report says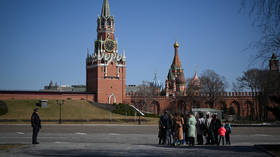 The administration of US President Joe Biden did not receive any heads-up about the drone raid on the Kremlin, which Russia says was conducted by Ukraine and sought to assassinate President Vladimir Putin, Politico reported on Wednesday, citing four unnamed US officials.
According to two US officials interviewed by the outlet, the administration is still not sure who orchestrated the attack. One official told Politico that if Ukraine was indeed behind the raid, "we had no advance knowledge."
"We are looking into the report but aren't able to confirm it or validate its authenticity," the source added.
On Wednesday, the Kremlin said that Ukraine attempted to strike Putin's residence overnight with two drones. Describing the raid as a "terrorist act" and "an attempt against the Russian president," it noted that the attack had not caused any casualties or damage, and both drones were downed with electronic warfare measures.
The Kremlin also said that Russia reserves the right to retaliate "anywhere and anytime it deems necessary." Ukrainian President Vladimir Zelensky has denied responsibility for the attack, claiming that Kiev is focused on fighting for the territories it claims as its own.
Commenting on the raid, White House Press Secretary Karine Jean-Pierre stated that Washington "is not encouraging or enabling Ukraine to strike beyond its borders." Later, speaking to the Washington Post, US Secretary of State Antony Blinken cast doubt on the Kremlin's version of events, arguing that anything they say should be taken with a "large shaker of salt."
He added that while he could not validate the reports on the matter, "we leave it to Ukraine to decide how it's going to defend itself." When asked whether Washington would criticize Kiev for striking into Russian territory, Blinken responded that "these are decisions for Ukraine to make."
You can share this story on social media: