Ukraine's top spy admits agents murdered Russian public figures
Military intel boss Kirill Budanov has claimed that his service "got" multiple high-profile individuals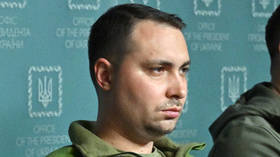 Ukrainian military intelligence (GUR) chief General Kirill Budanov has claimed responsibility for assassinating "many" Russian public figures. The spy boss made the bombshell admission in an interview with Ukrainian blogger Sergey Ivanov on Tuesday.
Asked whether high-profile Russian media figures such as prominent journalist Vladimir Solovyov or RT's Editor-in-Chief Margarita Simonyan, are prime targets for his organization, Budanov responded that the GUR had already "gotten" multiple high profile targets.
"We have already gotten many, including public and media personalities," Budanov said, without providing any names.
Pressed further by the blogger on the potential involvement of the GUR in the assassination of journalist Darya Dugina, the daughter of Russian philosopher Aleksandr Dugin, or the recent car bombing of author and political activist Zakhar Prilepin, the spy boss said he could "neither confirm nor deny" the involvement of his service.
Budanov's remarks were condemned by Moscow, with Foreign Ministry spokeswoman Maria Zakharova stating that they were a clear admission of wrongdoing.
"Terrorists. Those who provide excuses for the Kiev regime and sponsor it are accomplices of terrorists," Zakharova wrote on Telegram. "Will the UN not notice that again?"
The remarks are the latest in a string of incendiary statements made by the GUR boss amid the ongoing conflict between Moscow and Kiev. Earlier this month, Budanov declared, "We've been killing Russians, and we will keep killing Russians anywhere on the face of this world until the complete victory of Ukraine."
The pledge received an equally poor reception in Russia, with multiple top officials branding it an admission of engaging in state-level terrorism by Ukraine. Kremlin spokesman Dmitry Peskov, for instance, said Budanov's statement was "unprecedented in its essence," and it was "strange" to not hear any condemnation "from European capitals and from Washington."
"It's evident that the Kiev regime is behind the killings, not only sponsoring them but organizing, inciting, and carrying them out. De facto, we're talking about a state sponsor of terrorism," Peskov concluded, warning that Russia's "special services know what to do after such statements."
You can share this story on social media: