China bans purchases from US chipmaker
Beijing's cybersecurity ruling against Micron comes amid an escalating feud with Washington over semiconductor technology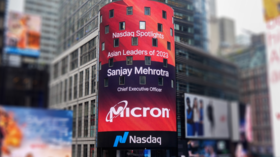 Shares of Micron Technology, the largest US maker of computer memory chips, fell as much as 5% on Monday after China's cybersecurity regulator banned purchases of the company's products on concern that they pose "significant security risks."
Micron's chips could compromise Beijing's critical information infrastructure, such as government-owned banks and telecommunications networks, the Cyberspace Administration of China (CAC) said on Sunday. Idaho-based Micron failed a security review that the CAC began in March. The probe comes after Washington's efforts to stymie advances in China's semiconductor industry through export controls and sanctions.
"The purpose of this network security review of Micron's products is to prevent product network security issues from endangering the security of the country's key information infrastructure, which is a necessary measure to maintain national security," the CAC said. "China firmly promotes high-level opening to the outside world, as long as it abides by Chinese laws and regulations. Companies from all countries and various platforms are welcome to enter the Chinese market."
Micron's stock traded as low as $64.76 on Monday morning in Nasdaq trading, down from its close at $68.17 on Friday. Prior to Monday's decline, the shares had risen 36% this year. The company reportedly relies on the Chinese market for about 10% of its annual revenue.
The CAC did not specify which Micron products would be affected by its decision or how sweeping the ban would be. The Wall Street Journal suggested that the order will not apply to foreign firms operating in China. "We are evaluating the conclusion and assessing our next steps," Micron told the newspaper in response to the Chinese ruling. "We look forward to continuing to engage in discussions with Chinese authorities."
The Chinese Foreign Ministry last week accused Washington of trying to impede the technological progress of potential competitors. "The US has politicized, instrumentalized and weaponized tech issues and sought to thwart other countries' technological advances," ministry spokesman Wang Wenbin told reporters on Wednesday.
You can share this story on social media: