China investigates US chipmaker over 'security risks'
The probe into Micron Technology comes as Beijing battles the US and its allies for semiconductor supremacy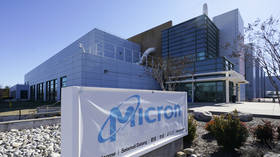 China has opened an investigation into Micron Technology, an Idaho-based semiconductor firm. The probe comes as the US seeks to curtail Beijing's access to these vital electronic components amid a deepening tech war.
In a statement on Friday, the Cyberspace Administration of China (CAC) said that it opened its investigation in order to "safeguard key information infrastructure supply chain security" and "prevent cyberspace security risks due to problematic products."
While the Chinese government has not commented further on the investigation, several factors could have influenced the CAC's decision to probe an American chipmaker, and Micron in particular.
The probe mirrors US investigations into Chinese technology firms like Huawei, which was placed on a US trade blacklist in 2019 and accused by Washington of enabling espionage by Beijing, which both Huawei and the Chinese government deny. Huawei suffered two straight years of declining profits in 2021 and 2022, and the Biden administration is reportedly planning to hammer Huawei with export controls to hasten the Chinese firm's "demise," according to the Wall Street Journal.
An investigation into Micron would seriously harm the company's bottom line, as China accounts for 10% of its sales, the South China Morning Post reported. Furthermore, Micron's Chinese-made products directly compete with those of domestic firms, meaning the probe stands to benefit indigenous industry.
Semiconductors are used in a host of modern devices, from smartphones to washing machines to guided missiles. The majority of these microchips are made in East Asia, with Taiwan producing more than 60%, and much of the remainder split between South Korea, Japan, the US, and China.
The US has recently moved to extend its control over the industry, offering $52 billion in federal funding to domestic manufacturers last August and imposing export controls last October to block the sale to China of the hardware and software used to produce chips. Furthermore, the US is currently in talks with Japan, South Korea, and Taiwan to formalize the so-called 'Chip 4 Alliance,' which Beijing sees as an attempt to exclude China from semiconductor supply chains.
Micron allegedly lobbied the Biden administration to pass the manufacturing funding bill, and closed a chip design center in Shanghai months before it became law, the South China Morning Post reported.
In a statement on Friday, the company said that it is "cooperating fully" with the CAC, and that it "stand[s] by the security of our products."
You can share this story on social media: