Serbia disarms after mass shootings
The first week of gun amnesty saw citizens turn in over 13,000 weapons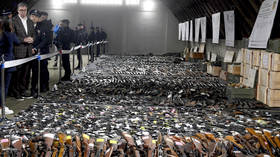 Serbian President Aleksandar Vucic has commended citizens for turning in more than 10,000 guns in the first week of a month-long drive aimed at rounding up unlicensed firearms. He also promised "repressive measures" for anyone found with illegal weapons after the amnesty's end.
On Sunday, Vucic and top police officials visited the main collection center in Smederevo, about 50 kilometers (31 miles) east of Belgrade. The president inspected the warehouse with rows of rifles, pistols, and automatic weapons, as well as hand grenades, landmines, and even rocket launchers brought in by citizens.
"What does anyone need an automatic weapon for? Or all these guns?" the president told reporters, commending the citizenry for voluntarily disarming. He said about half the weapons collected were legally registered and given up by owners, while the rest were unlicensed and accepted with no questions asked.
"I am grateful to the people who turned in weapons," Vucic said, noting that the haul will be sent to weapons and ammunition factories to potentially be converted for military use.
After June 8, the president added, the government will be "cruel" when it comes to prosecuting illegal gun possession, with steep fines and "repressive measures."
Vucic launched the weapons drive after two mass shootings in the span of three days. On May 3, a 13-year-old student at Belgrade's Vladislav Ribnikar Elementary School fatally shot eight of his classmates and a security guard, wounding six more students and a teacher. Another eight people were killed and 14 wounded in the nearby municipality of Mladenovac the following day. The attacker was arrested after an eight-hour manhunt.
The government has also announced a crackdown on firing ranges, as the school shooter allegedly attended one with his father. Legal gun owners face reviews of their licenses and police inspections to see if the weapons are kept under prescribed safety conditions – and their confiscation if not.
Serbia ranks third in the world in per-capita private gun ownership, after the US and Yemen. The 1990s collapse of Yugoslavia left behind a large number of military armaments in civilian hands as well. While previous attempts to round up illegal weapons have been lackluster, on just the first day of the current drive, citizens handed in 1,500 firearms, 50,000 rounds of ammunition, and about 100 grenades, rocket launchers and other explosive devices.
Some critics have pointed out that the Nazi-allied government of Croatia in WWII also sought to disarm the Serbs, even as it had them rounded up in a campaign of mass murder and genocide.
You can share this story on social media: