Nine killed in Belgrade school shooting – police
The teenage shooter has been detained, officials say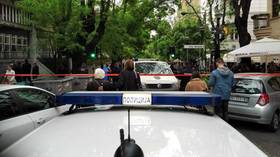 A seventh-grade student opened fire inside Vladislav Ribnikar Elementary School in Serbia's capital Belgrade on Wednesday morning, killing eight children and a security guard, the country's Interior Ministry said.
A teacher and six students were injured in the attack.
A 14-year-old suspect has been detained. Police said the shooter used his father's gun in his attack on the school.
According to Vecernje novosti, the assailant was armed with two handguns and had three Molotov cocktails in his backpack.
"I saw the security guard falling. At first, I thought someone was throwing firecrackers," a student told Kurir newspaper. "I ran downstairs and told PE teachers about the shooting. As we all waited in safety, we heard more shots."
A student told news website Danas that the attacker fired over 20 rounds and reloaded his weapon during the shooting.
Speaking to the news outlet, classmates described the suspect as "quiet and withdrawn" and said he had good grades.
Vecernje novosti reported that it is believed the suspect decided to target the school after receiving a bad grade in history class. However, officials have not commented on the attacker's possible motives.
Serbia will observe three days of mourning between Friday and Sunday, Education Minister Branko Ruzic told reporters after attending an emergency government meeting. "Unfortunately, Serbia is also a part of the world where these things happen," he said, adding that "the harmful influence of the internet and video games is evident."
You can share this story on social media: