EU threatens Serbia over 'pro-Russian' position
A report adopted by the European Parliament has ordered Belgrade to sanction Moscow, or else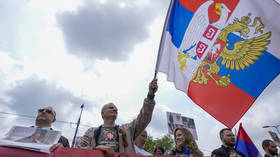 Belgrade must join the EU sanctions on Russia and stop "anti-democratic" policies, or risk losing funding from Brussels and halting negotiations on joining the bloc, the European Parliament said on Wednesday.
MEP Vladimir Bilcik's report on Serbia argued that "accession negotiations with Belgrade should advance only if the country aligns with EU sanctions against Russia and makes significant progress on EU-related reforms," specifically the "rule of law and fundamental rights, the functioning of democratic institutions, and a commitment to shared European rights and values."
Brussels has maintained that sanctioning Russia is required for Belgrade to "align with the EU's common foreign and security policy." This is putting Serbian President Aleksandar Vucic in a position in which he has to choose between two policies he has publicly embraced – joining the EU as Serbia's strategic aspiration, and not sanctioning Moscow due to political, historic and legal reasons.
The EU's insistence on sanctions and demands to recognize the breakaway province of Kosovo as an independent state have drastically reduced support for membership in Serbia. The EP report, however, attributed that to "long-standing anti-EU/pro-Russian political rhetoric spread via government-controlled media" and by government officials, as well as "gross failure from government representatives to face up to and come to terms with Serbia's past."
Last month, the Ukrainian embassy sent an instruction with "correct terminology" about the conflict to all the media outlets in Serbia. In March, one of the ministers in Vucic's government openly advocated sanctioning Moscow due to "unbearable" pressure from the EU. He was publicly reprimanded for being out of line, but not dismissed.
If Belgrade continues to support "anti-democratic politics," the European Parliament warned on Wednesday, the EU should "reconsider the extent of its financial assistance to Serbia" because its expenditures need to be "fully in line with the EU's own strategic goals and interests."
Bilcik did not explain how a position opposed by 80% of the country can be considered "anti-democratic." The Slovakian MEP's report was adopted with 508 votes in favor, 76 opposed, and 37 abstentions.
This was the formal confirmation of what Vucic had revealed in February, after being presented with the Franco-German proposal for "normalizing relations" with Kosovo. Lamenting the difficulty of his position, Vucic told the national TV broadcaster that Serbia had 80,000 people working in German-owned factories alone, and could not handle losing EU investments – but that he did not intend to sign any "formal or informal recognition of Kosovo" as long as he was president.
You can share this story on social media: