EU is threatening Serbia – Vucic
No "normalization" agreement has been signed with Kosovo, Serbian President Aleksandar Vucic has said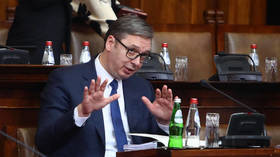 Serbia has not agreed to the EU's "normalization" proposal on its relations with the breakaway province of Kosovo, President Aleksandar Vucic said on Tuesday while appearing on national TV. He added that Belgrade was facing threats from Brussels, but still refused to discuss the recognition of Kosovo and its accession to the UN.
His words came a day after the EU's top diplomat, Josep Borrell, said on Twitter that both Belgrade and Pristina supported the Franco-German proposal for a "path to normalization" of relations between Serbia and Kosovo.
Kosovo Prime Minister Albin Kurti then said he had offered to sign the plan, but that Vucic refused to do so, even though he had apparently "agreed to" it.
On Tuesday, however, Vucic said that the sides "did not agree," but simply agreed on continuing the talks. He added that "nothing has been signed in Brussels."
Serbia is "ready to work on the implementation of many [points of] this plan," Vucic said, but Belgrade still does not want to discuss "mutual recognition" as well as Kosovo's accession to the UN.
Serbia has not struck any "secret agreements," the president said, adding that "not a single agreement is hidden" and he has "nothing to hide." Vucic also called Borrell's statement "very vague" and said that he was ready to discuss the "concept" of normalization.
Vucic vowed that he would never sign any "formal or informal recognition of Kosovo" as long as he is Serbia's president. He also admitted that Belgrade was facing pressure from Brussels and that the consequences of rejecting the plan would be a halting of Serbia's integration into the European Union and a withdrawal of EU investments.
"We currently have 80,000 people working in German-owned factories alone. They threatened a number of other measures, including that Serbia would become a pariah isolated from the [rest of the] world," Vucic said.
An EU plan published by the bloc's External Action Service says that Serbia and Kosovo would "develop normal, good-neighborly relations with each other on the basis of equal rights" and their dialogue would be guided by UN principles, including "those of the sovereign equality of all States."
The EU has insisted on Serbia recognizing Kosovo's independence as a precondition for joining the bloc, even though five member countries – Spain, Slovakia, Cyprus, Greece, and Romania – do not recognize it either.
You can share this story on social media: