Serbian minister rebuked over Russia comments
His own party disavowed Rade Basta after he urged Belgrade to sanction Moscow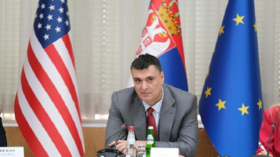 Serbia should join the US-EU sanctions against Russia because it's facing unbearable pressure from the West, Economy Minister Rade Basta said on Monday on social media. His own United Serbia party quickly condemned the comments, while one member of the ruling coalition demanded his resignation.
"Our country is already paying a high price for not sanctioning Russia and that's becoming unbearable," Basta declared on Twitter and Instagram. "I am for sanctioning Russia, and I have full confidence in President [Aleksandar] Vucic's defense of our state and national interests, which is why I ask all other ministers and the cabinet to make a decision on the matter."
Basta accompanied the statement with a photo of himself in front of the flags of Serbia, the US and the EU.
"What a strange position: the US is pressuring Serbia, and a Serbian minister is calling for measures against Russia," Russian Foreign Ministry spokeswoman Maria Zakharova said in response to Basta, suggesting he would be better served calling out Washington.
"Unlike the US, Russia has always respected Serbia and its people. Nor is this only about historical truths, but about an obvious fact: with the introduction of sanctions against Russia, the US pressure on Serbia will not end, but only increase," said Zakharova.
The Socialist Party-United Serbia bloc in the parliament quickly disavowed Basta's comments. Foreign Minister Ivica Dacic told the Tanjug news agency that he and his Socialist Party "strongly support the policy publicly embraced" by Vucic.
United Serbia is "against sanctioning anyone and our position is that the conflict in Ukraine should end right away, with the parties resolving their differences at the negotiating table," said its chairman, Dragan Markovic Palma.
A member of Vucic's parliamentary bloc, the Socialist Movement, went so far as to demand Basta's resignation, calling him a coward for hiding behind the president while attacking his policy.
"If the economy minister is not an expert but a politician, let him join… those who also want to break off fraternal and friendly relations with Moscow and the Russian people," the party said. "We expect Basta to demonstrate the strength of his convictions by resigning if the rest of his ministers don't endorse his struggle against the independent, neutral and freedom-loving policy of Serbia."
Basta has served as economy minister since an October 2022 cabinet reshuffle. The former kickboxer, police officer and gym teacher previously managed Belgrade's central heating utility. He has a history of anti-Russian comments, calling for shutting down a humanitarian center in Nis and achieving "energy independence" from Russian natural gas by building a nuclear power plant with the EU and the US.
Belgrade has declared neutrality and declined to join the anti-Russian embargo, countering the Western pressure by pointing out that Washington and most of its European allies insist on Ukraine's territorial integrity but violate that of Serbia, by demanding the recognition of its breakaway province of Kosovo.
You can share this story on social media: