Serbia denies supplying weapons to Ukraine
Belgrade has dismissed media reports suggesting a local arms maker had secretly shipped artillery munitions to Kiev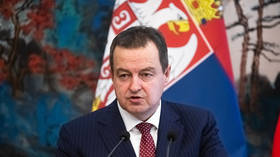 Serbia has officially denied supplying weapons to Ukraine amid the ongoing conflict with Russia, dismissing media reports suggesting otherwise. The country's foreign minister, Ivica Dacic, made a statement on the matter on Friday.
The top diplomat insisted Belgrade had not provided war supplies to either side of the conflict or made shipments to any other "controversial" destinations.
"Serbia does not export weaponry and military equipment to countries in cases where we believe that this could cause disputes and problems," Dacic stated. "I'd like to vigorously refute all the information published by certain media outlets saying otherwise."
Similar statements were made separately by the Serbian Defense Ministry, which insisted that no permits to supply arms to either Russia or Ukraine had been granted from the onset of the hostilities.
"Since the beginning of the conflict in Ukraine, not a single one of our rockets, mines or shells has been covered by an agreement or delivered in such fashion that one of the sides to the conflict was the end user," the ministry said, noting that the government operates strictly in line with international restrictions and UN rulings regarding certain nations or entities. At the same time, the ministry said Belgrade could not be held responsible for any potential violations of end-user agreements by third parties.
In recent days, media reports suggested that the Serbian state-owned arms maker Krusik supplied at least one batch of some 3,500 122-mm rockets used with Soviet-made M-21 Grad multiple rocket launch systems. The shipment was allegedly delivered to a Turkish customer, who then sent them to Ukraine via Slovakia.
The Krusik arms factory was the first to deny the allegations, insisting that the media reports used "incomplete and irrelevant information." The manufacturer also insisted it had not signed a delivery contract with the Turkish company Arca Savunma Sanayi Ticaret Limited, which was mentioned in the documents, altogether.
Since the beginning of the hostilities between Moscow and Kiev over a year ago, Belgrade has maintained an explicitly neutral stance. Serbian President Aleksandar Vucic, as well as other top officials, however, have repeatedly said the country has faced mounting pressure from the EU to condemn Moscow's ongoing military operation and join the Western-imposed sanctions against Russia.
Moscow has responded to the arms shipment allegations by asking Belgrade to officially comment on the matter. "This is too serious an issue, with implications on Russian-Serbian relations, to react reflexively," Russian Foreign Ministry spokeswoman Maria Zakharova said on Thursday, adding that Moscow is reserving judgment until all the facts have been established.
You can share this story on social media: