German police investigate media for reporting Zelensky plans
A Berlin newspaper was accused of "betrayed secrets" by revealing the Ukrainian leader's upcoming visit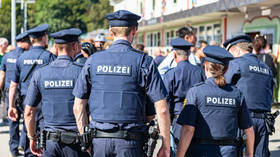 German authorities on Thursday opened a "betrayal of secrets" probe into a newspaper report about a possible visit to the country by Ukrainian President Vladimir Zelensky, which quoted an unnamed police source.
Berlin Police Chief Barbara Slowik denounced the anonymous official as "damaging the reputation of the Berlin police in such a shameful way," at home and internationally.
"The fact that newspaper headlines are given higher priority than the reliability of the Berlin police and the trust placed in us is in no way tolerable," Slowik said, adding that she has asked the state police to investigate the case as "betrayal of [official] secrets."
Police did not name the outlet in which the unnamed official was quoted, but the French news agency AFP identified it as Berliner Zeitung. The story allegedly contained "classified details" of the security operation being planned to safeguard the Ukrainian leader.
"At no time did the Berlin police officially provide any information that endangered the state visit," the department said in a statement, explaining that their press office "only confirmed the impending operation in response to inquiries based on previous media reports."
Berliner Zeitung had reported on Wednesday that police were preparing for a visit by Zelensky in mid-May. The Ukrainian leader was in Helsinki at the time. On Thursday, he resurfaced in the Netherlands, as part of his European tour to drum up support in the conflict against Russia.
Zelensky's already twitchy security has been elevated after Wednesday morning's drone attack on the Kremlin. Moscow declared it a "premeditated terrorist action" and an attempted assassination of Russian President Vladimir Putin, warning Kiev that it "reserves the right to retaliate in a manner, place and time of our choosing."
Ukraine has denied any knowledge or participation in the attack, as it did with the attacks on the Crimean Bridge, or the assassinations of blogger Vladlen Tatarsky and journalist Darya Dugina. The Ukrainian postal service quickly issued a stamp design showing the Kremlin in flames, however.
You can share this story on social media: