Bear Grylls reveals Zelensky chocolate incident
The Ukrainian president's bodyguards blocked the British TV host's friendly gesture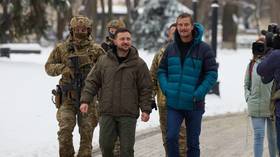 Ukrainian President Vladimir Zelensky's security detail feared an attempted poisoning when Bear Grylls offered him a piece of chocolate during their interview, the TV presenter revealed on Monday during an interview with Good Morning Britain.
The former SAS trooper and wilderness survivalist was in Ukraine last year, filming a documentary about Zelensky for Channel 4. The incident happened in early December, when he met the president in Kiev.
"Normally when I've done this before with world leaders, the wild does half my job for me – it's a great leveler. It's a great ice-breaker – you're out in the mountains," Grylls said on the show. In Kiev, he used a different trick, taking out a piece of Cadbury's chocolate.
"When I offered it to Zelensky, one of his guys stepped in and said he shouldn't be eating it," Grylls recalled. "I said, 'Ok, I'll go first, to show I'm not out to poison him', and we all laughed. I gave some to the security guys, because everyone likes a little square of Dairy Milk, right?"
Grylls had previously used food to break the ice with other politicians. In a 2015 episode of 'Running Wild With Bear Grylls' filmed in Alaska, he shared a piece of salmon with US President Barack Obama, who was using the show to promote his Arctic agenda.
His new documentary, 'Bear Grylls Meets President Zelensky', is intended to promote the Ukrainian president's cause in the conflict against Russia. Grylls said Zelensky had the same sense of "destiny" as Winston Churchill, and that the goal of the documentary "is to get to know the real guy behind the podium, actually what he is like as a man."
Born Edward Michael Grylls, the adventurer and businessman became famous for a hit TV show called 'Man vs. Wild', which ran between 2006 and 2011. In the 1990s, he served in the Special Air Service (SAS) until he damaged his spine on a parachute jump in Kenya. Though he was discharged as a trooper, he holds the honorary rank of lieutenant commander in the Royal Naval Reserve, and an honorary colonel in the Royal Marines Reserve.
The government in London has been one of the most outspoken champions of Kiev's cause, waging information and economic warfare on behalf of Ukraine and urging the US and other NATO members to send Zelensky weapons and ammunition.
You can share this story on social media: