China reacts to reports of NATO office in Japan 
The US-led bloc's expansion into Asia will undermine regional peace and stability, Beijing has warned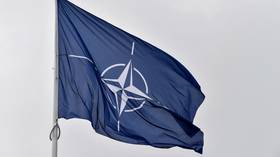 The Chinese Foreign Ministry has urged its Asian neighbors to exercise "high vigilance" in response to media reports claiming that NATO is planning to open its first liaison office in the region, in Japan's capital Tokyo.
"Asia is an anchor for peace and stability and a promising land for cooperation and development, not a wrestling ground for geopolitical competition," Chinese Foreign Ministry spokeswoman Mao Ning said when addressed on the issue during a briefing on Thursday.
Mao warned that "NATO's continued eastward foray into the Asia-Pacific and interference in regional affairs will inevitably undermine regional peace and stability and stoke camp confrontation."
"High vigilance among regional countries" is required in view of the US-led military bloc's attempts to gain presence in Asia, she added.
On Wednesday, the Nikkei Asia outlet reported – citing both Japanese and NATO officials – that the US-led military alliance was in talks with Japan to open a liaison office in the country.
According to the outlet's sources, NATO wants to establish a one-man station in Tokyo to be able to conduct periodic consultations with Japan and its other allies in the Asia-Pacific, such as Australia, New Zealand, and South Korea.
The idea of NATO establishing a liaison office was first raised by Japanese Prime Minister Fumio Kishida and NATO Secretary General Jens Stoltenberg during their meeting in Tokyo in late January. Japan must agree to fund the operations of the bloc's mission in order for it to open in the country, Nikkei Asia added.
The abbreviation 'NATO' stands for the North Atlantic Treaty Organization, but the bloc has recently openly admitted that it also has interests in the Indo-Pacific. Last June, the bloc's allies from the region participated in the NATO Summit for the first time ever.
NATO is "strengthening relations" with Japan, Australia, South Korea, and New Zealand because "in today's complex security environment, relations with like-minded partners across the globe are increasingly important to address cross-cutting security issues and global challenges, as well as to defend the rules-based international order," the bloc said in a statement last month.
Russia, which strongly opposes NATO's expansion towards its borders, has also criticized the bloc's attempts to spread its activities into Asia. In March, Russian President Vladimir Putin said that the push by the US and its allies to create what he called a "global NATO" resembled the actions of Nazi Germany, Italy and Japan in the 1930s before the outbreak of World War II.
You can share this story on social media: