Vice Media to file for bankruptcy – NYT
The outlet has struggled since it secured major investments from media giants including Disney and Fox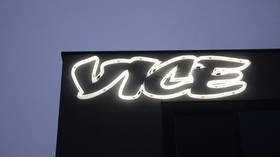 Vice Media, once widely regarded as the largest youth media group in the world, is preparing to file for bankruptcy, the New York Times reported on Monday. The paper noted the company could soon come under the control of an investment firm should it fail to find a buyer.
While at least five companies have shown interest in buying Vice, the chances of an acquisition "are growing increasingly slim," a source with knowledge of the potential bankruptcy told the Times. Three people familiar with Vice's operations suggested the company could file sometime in the "coming weeks," though they did not offer details about discussions with possible buyers.
A bankruptcy filing could mean a takeover by Vice's largest investor, Fortress Investment Group, which holds senior debt at the company and would be the first to be paid in the event it is sold.
Vice did not confirm whether it was weighing the move, but issued a statement on Monday saying it is "engaged in a comprehensive evaluation of strategic alternatives and planning" and that its "board and stakeholders continue to be focused on finding the best path for the company."
Launched in Montreal, Canada in 1994 as an irreverent and often-offensive DIY magazine, and driven by the irascible Shane Smith, Vice has shed much of its former punk rock aesthetic. It transformed into a major media concern, courting massive investments from the likes of Disney and 21st Century Fox.
Though the company was valued at $5.7 billion in 2017 following a $450-million injection from TBG, a private equity firm, it is worth just "a tiny fraction" of that today, according to The Times. Since its peak, Vice has encountered a more difficult digital media market, and has "consistently failed" to turn a profit for several years, forcing it to lay off staffers as it hemorrhaged money.
Disney reportedly considered buying Vice Media for $3 billion back in 2015, but ultimately backed out of the deal. It is unclear whether Disney is among the five potential buyers said to be in contact with the company.
Highlighting its struggles, the outlet announced last week that it would be shutting down its Vice World News branch, which made a name with its risky, gonzo-style reporting from conflict and crisis zones around the globe. A recent shakeup in leadership could also signal trouble for Vice, as both its chief executive Nancy Dubic and its global president of news and entertainment Jesse Angelo have exited the company this year.
You can share this story on social media: