Joe Biden claims to be the most pro-union president in history – but workers disagree
A US Railway Union (RWU) rep explains why Biden isn't their man in the White House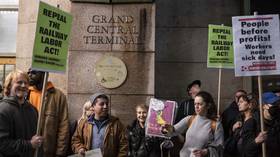 US President Joe Biden announced his re-election bid last Tuesday, hoping to cement a second term after the results of the 2024 presidential election next November.
This carefully orchestrated announcement came just days after a new poll by the Associated Press-NORC Center for Public Affairs found that only 26% of Americans and 47% of Democrats would like to see him run again.
Biden, who claims to be the "most pro-union president in American history," is losing favor with working Americans. That's because, as he said to rich donors in the early stages of his 2020 campaign: "No one's standard of living will change, nothing would fundamentally change." Indeed, his record as president shows that not much has really changed, whether that be in tackling the issue of climate change, improving workers' rights, or ending America's forever wars.
For International Workers' Day on May 1, I spoke to Matthew A. Weaver, who is the Ohio legislative director of the railway union (RWU). Weaver the Griever, as he is known to his fellow workers in arms, gave me a candid interview about the position of railway workers who Biden forced a skinny deal on to prevent a national strike last December. That deal does not address any of the workers' concerns, such as their dire need for paid sick leave, being on call 24/7, and not being able to make doctor's appointments or take care of their children due to mandatory overtime. The bill passed in December basically outlawed the looming strike, dealing a major blow to rail workers.
Another demand mentioned by Weaver was to outlaw one-man train crews, which can obviously be dangerous in some circumstances. While he said that, to be fair, two-man crews are still the standard for cross-country trains, national regulators have refused to ban one-man crews, leaving the decision up to individual states and companies. "In general, the contracts, the… recommendations being imposed on us were very frustrating and I can't imagine us being able to strike for 12 hours, 24 hours at the most, but it came out in the STB (Surface Transportation Board) hearings that the shippers were telling the STB that they need more people," he said.
According to him, shippers called on Congress at the eleventh hour to "impose the contract because they said we would wreck the economy of America." He said that "it's very frustrating to see the power of money versus people in the American economy." He added that some rail workers did get paid sick leave but this is on a carrier-by-carrier basis and not a national mandate, which is what rail workers wanted to strike for.
Speaking on the East Palestine, Ohio train derailment and the resulting fire and hazardous material spillage, Weaver said his fellow union workers were at the site and were responsible for clearing the debris. "Our members were not afforded all the protective gear they should have been and were not told of all the chemicals in there, so it's very frustrating," he continued.
"It seems like it's profit over people in America, in the rail industry. It's all about the profit margins, dividends and the shareholders and not how the public or rail labor are affected." He added that he didn't understand why the chemicals in the train cars had to be burned off rather than taken away.
Weaver told me before our interview that he had filed more than 2,000 grievances for labor violations by companies. According to him, the vast majority of these are contract violations where companies hire contractors rather than using the union labor force, which he says in the rail industry is about 80-90% of workers. But he's also filed grievances over safety issues, remarking that Secretary of Transport Pete Buttigieg "dropped the ball" on East Palestine. He claimed that dangerous tankers "don't go through rich people's backyards," instead going through "small-town America and places where the working class live."
In terms of politics, he said Democrats are squandering the relationship they "had" with labor and he feels most of the time that he and his fellow workers are picking between "the lesser of two evils" rather than choosing a strong labor candidate. "I would say in 2016 that at least two-thirds of rail labor voted for Donald Trump and I think in 2020, more than half did, probably 60%," he estimated. Weaver said a lot of working-class people felt like Trump was something different rather than more of the same and voted for him to shake up the system.
"It seems like we're walking more to stay status quo while stockholders and CEOs are getting more and more. The wealth gap is tremendous now in America," he remarked. Weaver said he would personally vote for Biden over Trump, but that he wouldn't like it and is frustrated with politics. However, he's hopeful that younger generations, Gen Z in particular, will carry the torch. He also said that, while 2022 was the lowest unionization rate for workers on record, organizing is still strong and unions like the Teamsters are adding hundreds of thousands of members.
The statements, views and opinions expressed in this column are solely those of the author and do not necessarily represent those of RT.
You can share this story on social media: