Biden's approval rating hits record low – Gallup
Just 37% of Americans said they are happy with the president's performance, a new poll shows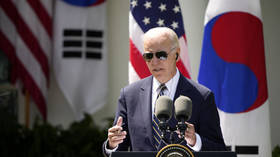 US President Joe Biden's approval rating dipped to a historic low as he announced that he would run for re-election, according to a Gallup poll released on Thursday. Just 37% said they approve of the way Biden has handled the job – the lowest number reported by Gallup since his inauguration in 2021.
"Biden's job approval has been in the low 40% range for most of the past 19 months, apart from the current reading and a 38% score last July," Gallup said. "Only Ronald Reagan in early 1983 had a lower ninth-quarter average among elected post-World War II presidents."
The poll was conducted from April 3-25 and completed the day Biden formally launched his re-election campaign. On Tuesday, the president's team released their first video ad, with the slogan "Let's finish the job."
Biden's most pressing challenges include the slowdown of economic growth, high inflation, and the energy crisis. According to Gallup's Economic Confidence Index, 16% of Americans rate the economy as 'excellent' or 'good', 37% as 'fair', and 47% as 'poor', while 75% said the economy is getting worse.
Biden's likely opponent in the general election, former President Donald Trump, declared in November 2022 that he is running for re-election. "We are living in a catastrophe. With your vote on November 5, 2024, we are going to crush Joe Biden... at the ballot box," Trump told a crowd of supporters on Thursday.
Trump won the presidency in 2016 by beating heavily favored former Secretary of State Hillary Clinton, but lost to Biden in 2020.
You can share this story on social media: