Two deaths and three derailments trigger rare US railroad probe
Regulators have demanded immediate policy changes while investigating troubled rail operator Norfolk Southern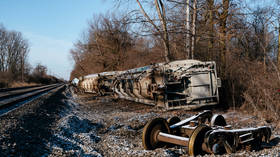 The US National Transportation Safety Board (NTSB) has announced a rare "special investigation" into the "safety practices and culture" at Norfolk Southern Railway, operator of the train that derailed in East Palestine, Ohio over a month ago, which may have doused the town in one of the most toxic substances on earth.
Citing the "number and significance of recent Norfolk Southern accidents" – which include three employee deaths and three major train derailments since December 2021 – the NTSB called on the rail operator to "take immediate action today to review and assess its safety practices" in a statement released on Tuesday, stressing that "the continued safe operations of Norfolk Southern is vital to the United States."
The probe is the NTSB's fourth into incidents regarding Norfolk Southern's Ohio operations in just five weeks and the second in a single day – announced just hours after a collision between a dump truck and a train at a rail crossing in Cleveland left the conductor dead.
Unlike typical investigations focused on single incidents, the latest NTSB probe hopes to diagnose and remedy any "organizational factors" that might be causing Norfolk Southern to literally go off the rails, specifically the rail operator's "safety culture," the regulator explained.
Norfolk Southern has lobbied heavily against safety regulations, operating longer than normal trains unions say are critically understaffed. Employees struggled to make the industry listen to their safety concerns until the recent derailments.
Over a month after the East Palestine cars spilled vinyl chloride into the surroundings and the carrier burnt the toxic substance off in what residents were reassured was a safe controlled burn, the Environmental Protection Agency has finally ordered Norfolk Southern to test the area for dioxins, substances among the most toxic on earth that are formed when chlorine compounds burn.
Norfolk Southern announced a six-point "safety plan" after another train derailed near Springfield on March 4, with proposals including adding hundreds of heat and vibration sensors along the tracks. Following Tuesday's crash, however, the company released a statement vowing to hold "safety stand-down briefings reaching every employee across our network."
"Moving forward, we are going to rebuild our safety culture from the ground up," CEO Alan Shaw told Reuters. "This is not who we are, it is not acceptable, and it will not continue."
The Federal Railroad Administration has also stepped in to conduct a 60-day "supplemental safety assessment" of Norfolk Southern using the findings of a previous audit.
You can share this story on social media: