'Pele' added to dictionary
Brazil's Michaelis dictionary lists the late football icon as a synonym for greatness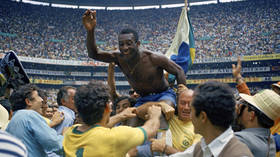 Brazilian football legend Pele has been added posthumously to the latest edition of the Portuguese-language Michaelis dictionary. Pele, the entry reads, is an adjective describing someone or something whose "superiority cannot be equaled."
The addition was announced on Wednesday by the Pele Foundation, which had led a campaign to enshrine the sporting icon's name in Brazil's most popular dictionary. In less than a month, a petition circulated by the foundation gathered more than 125,000 signatures.
The definition of 'Pele' reads: "Something or someone who is out of the ordinary, something or someone who by virtue of their quality, value or superiority cannot be equaled to anything or anyone, just like Pele, nickname of Edson Arantes do Nascimento (1940-2022), considered to be the greatest athlete of all time; exceptional, incomparable, unique."
"Examples: He is the Pele of basketball, she is the Pele of tennis, she is the Pele of Brazilian dramaturgy."
The only player to have won the World Cup three times, Pele is widely considered to be the best footballer in history. Over a two-decade career, Pele scored a record 1,281 goals with the Brazilian national team, Brazilian club Santos, and the New York Cosmos. After his sporting career was over, Pele was appointed a UN ambassador for ecology and the environment in 1992 and an UNESCO Goodwill Ambassador in 1994.
He passed away in Sao Paulo in December aged 82, after a battle with colon cancer.
"His name in the dictionary is a very important piece of his legacy that will keep Pele alive forever," Joe Fraga, executive director of the Pele Foundation, said in a statement on Wednesday.
You can share this story on social media: