Mourners flock to pay tribute to Pele (VIDEO)
Fans have lined up to bid farewell to Brazil's greatest sporting hero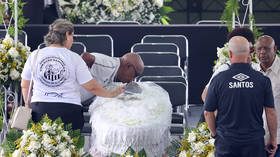 Brazilian football fans have converged on the Vila Belmiro Stadium in Santos to pay tribute to the legendary forward who passed away last Thursday at the age of 82 following a prolonged battle with cancer.
Hundreds of supporters began filtering towards the stadium at which Pele enjoyed some of the most iconic moments of his football career early on Monday morning to pay their last respects to the former Brazil international, who is generally regarded as one of the finest footballers in history.
Pele, who was born Edson Arantes do Nascimento, enthralled football fans during his career with Santos, scoring 643 times in just 659 appearances for the Brazilian club between 1956 and 1974, though some estimates suggest he scored many more which were not officially recorded.
He won three FIFA World Cups with Brazil, as well as a host of domestic and individual honors while registered as a Santos player.
A look inside Santos FC's Vila Belmiro Stadium - outside São Paulo, 🇧🇷 - the place where Pelé dazzled crowds for nearly two decades, and where a funeral will be held today and tomorrow as fans, a nation and the world says goodbye. 💚💛🎥 @dw_espanolpic.twitter.com/FcDid0cTb2

— Men in Blazers (@MenInBlazers) January 2, 2023
AGORA! O corpo do Rei Pelé acabou de chegar na Vila Belmiro para o velório.É a última vez que o melhor jogador de todos os tempos entra no estádio do Santos.pic.twitter.com/QTINGSiVip

— FutebolNews (@realfutebolnews) January 2, 2023
His funeral was scheduled to begin at 10am local time ahead of the burial on Tuesday at a site just 60 meters from the football stadium.
Fireworks marked his exit from the Albert Einstein Hospital, where he spent his final days, before his remains were transported to the Vila Belmiro Stadium under police protection.
"It is a very sad moment, but we are now seeing the real meaning of this legendary player to our country," said Brazilian Supreme Court Justice Gilmar Mendes of Pele's passing.
"My office has shirts signed by Pele, a picture of him as a goalkeeper, also signed by him. DVDs, photos, a big collection of him."
Mendes added that Pele's dignity and reputation as a humanitarian ensured that he fully deserved the wide range of tributes he is receiving.
Following the culmination of funeral proceedings, Pele's coffin will be transported through the streets of Santos before his burial at the Memorial Necropole Ecumenica cemetery, down the street from where his 100-year-old mother Celeste Arantes lives.
Several Brazilian dignitaries, including the newly elected President Luiz Inacio Lula da Silva, are expected to attend to pay their respects.
Pele had been receiving treatment for colon cancer since 2021 but his condition worsened in November and he died last week as a result of multiple organ failure.
You can share this story on social media: