'No use in saying who's right' in Ukraine – Lula
The Brazilian president has condemned Russia's military operation, but blames the West for "encouraging war"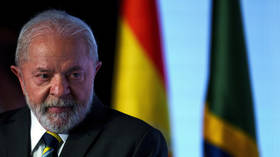 Ascribing blame for the conflict in Ukraine is pointless, Brazilian President Luiz Inacio Lula da Silva declared on Wednesday. Lula's position – that the West must stop arming Kiev and push for a ceasefire – has angered the US and its allies.
"No one can doubt that Brazilians condemn Russia's territorial violation of Ukraine. The mistake happened and the war started," Lula said during a joint press conference with Spanish Prime Minister Pedro Sanchez. "There is no use now in saying who is right, who is wrong. What we have to do now is stop the war," he added.
"No one in the world is talking about peace except for me," the Brazilian leader claimed. "It's like being alone, screaming in the desert."
Sanchez does not share Lula's position, and responded by describing Russian President Vladimir Putin as "the aggressor" and Ukraine as the "victim of an attack."
Lula returned to office in January after defeating the right-wing incumbent, Jair Bolsonaro, in elections last year. Bolsonaro struck a neutral position on Ukraine, refusing to sanction Moscow and deepening his country's trade links with Russia amid the conflict, while Lula has taken a more active role in trying to end the fighting.
The Brazilian leader announced last month that he would rally like-minded nations to form a "peace club" to mediate an end to the conflict. Since then, the left-wing president has traveled to China, which recently released a 12-point 'Position on the Political Settlement of the Ukraine Crisis'.
"The United States needs to stop encouraging war and start talking about peace," Lula told reporters in Beijing. "The European Union needs to start talking about peace." While he did not say whether he had made any progress on his "peace club" during talks with Chinese President Xi Jinping, Lula called on global leaders to "convince" both Putin and his Ukrainian counterpart, Vladimir Zelensky, that "peace is in the interest of the whole world."
Washington took a dim view of Lula's comments, with US National Security Council spokesman John Kirby accusing him of "parroting Russian and Chinese propaganda."
You can share this story on social media: