Lula announces conditions for visiting Russia or Ukraine
The Brazilian president says future trips to either country will be dependent on the advancement of peace talks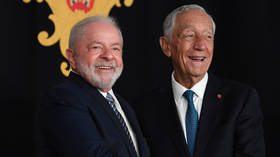 Brazilian President Luiz Inacio Lula da Silva, commonly known as Lula, said during a diplomatic visit to Portugal on Saturday that it remains necessary for a cohort of countries to help guide both Russia and Ukraine towards peace. He also reserved criticism for Moscow's role in instigating "a war with Ukraine."
"Brazil wants to find a way to establish peace," Lula said on Saturday during a press conference with his Portuguese counterpart Marcelo Rebelo de Sousa, with whom he had just concluded a closed-door meeting.
"It is better to find a way out at the negotiating table than a way out on the battlefield," Lula stated. "War only destroys, it does not build anything," he added, while also saying he would refuse to visit either Moscow or Kiev until one or both makes tangible moves towards ceasing hostilities.
Lula's comments come after he was criticized in the West for suggesting shortly after a state visit to China this month that the United States and its European allies were "encouraging war" in Ukraine with the provision of weaponry to Kiev's defense forces.
His blueprint for a roadmap towards peace was praised by Russian Foreign Minister Sergei Lavrov while on a visit to Brasilia earlier this week – but a White House spokesperson accused the Brazilian president of "parroting Russian and Chinese propaganda without looking at the facts."
However, Reuters reported on Friday that Lula would soften his stance on criticism of the West's role in the Ukraine conflict. It said two officials in Brasilia had told the news agency that Lula's comments had led to "unnecessary noise" and had undermined Brazil's position as a potential peace broker.
Despite that, Lula reiterated on Saturday that "if you don't make peace, you contribute to the war," and said he had refused a request from German Chancellor Olaf Scholz to contribute military aid to Ukraine. But he added that his government firmly opposes Moscow's actions; a stance which he said has been reflected in Brazil's "UN votes."
"Russia made a mistake," Lula said on Saturday. "We all think Russia made a mistake. It shouldn't have invaded, but it did. Brazil doesn't want to choose a side. It wants a group of countries to talk to."
Lula's arrival in Portugal on Friday was met with a wave of protest by Ukrainian citizens and supporters outside the Brazilian embassy in Lisbon, many of whom were angered by what they saw as Brasilia's failure to address the true cause of the conflict. On Friday, Lula announced that his top foreign policy adviser would meet Ukrainian President Vladimir Zelensky in Kiev.
The Brazilian leader's visit to Portugal will be followed by a two-day spell in Spain, where he will hold meetings with King Felipe IV and Prime Minister Pedro Sanchez.
You can share this story on social media: