Fewer than 50% of Democrats want Biden to run in 2024 – poll
However, the majority of party supporters will back the 80-year-old anyway if he is nominated for the presidential race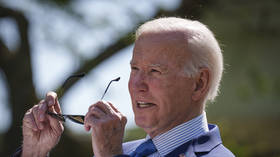 Fewer than 50% of US Democrats believe President Joe Biden should run for a second term in the Oval Office, a new poll has indicated. However, the majority of respondents said they would still back the incumbent in 2024, if he is selected as the party's candidate.
On Friday, the Associated Press published the results of a survey it carried out among 1,230 adults between April 13 and April 17.
Only 47% of Democratic voters said they wanted Biden to run for president again, with that number notably lower among younger demographics. Only 25% of Democratic respondents under the age of 45 would definitely support him, AP reported.
However, some 81% of Democrats said they would at least probably vote for Biden if he won the nomination. According to the survey, while 78% of Democrats approve of the president's performance, this figure is only 42% among the general population.
A total of 56% of Americans said they would be unlikely to support Biden in a general election, the survey revealed, while only 26% want to see the current president run for a second term.
Biden's advanced age – he would be 82 on election day in 2024, and 86 at the end of a hypothetical second term – is among the main concerns voiced by Democrats in the poll.
One respondent admitted that, while she likes Biden and what he has achieved during his time in office, "he's just so old."
Another expressed concern that the president may be "lacking the up-to-date knowledge of what needs to be done."
Biden is already the oldest president in US history.
Speaking to the press last Friday while on a visit to Ireland, Biden said: "I told you my plan is to run again," adding that he had "already made that calculus." The Democrat promised to "announce it relatively soon."
In its report on Friday, AP, citing anonymous sources, claimed the president may do that on Tuesday, April 25 — four years to the day since he entered the 2020 race.
White House physician Kevin O'Connor declared Biden "fit for duty" following a series of medical tests back in February.
If he does officially announce his candidacy, it is quite likely that Biden will face off with Republican Donald Trump again in 2024. The former president joined the race for the Republican nomination last November.
You can share this story on social media: