West 'falling short' in supplying Ukraine – NYT
Kiev needs more tanks and shells for the spring offensive, Pentagon leaks allegedly show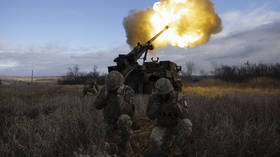 The US and other backers of Ukraine have not delivered sufficient tanks, artillery ammunition and other supplies that the country's army needs for an anticipated spring offensive against Russia, the New York Times reported on Friday, citing leaked Pentagon documents.
US military planners estimated that Kiev would need 253 tanks for the coming assault, but only 200 had been mustered by late February. Of those, 140 were Soviet designs while just 60 tanks of Western manufacture would be delivered by April, the outlet said.
The West is struggling to fulfill its pledge to supply Ukraine with tanks, air defense systems, fighter jets and other weapons, the newspaper claimed. Three Ukrainian brigades preparing for the attack were short "at least a dozen tanks each" as of February 28.
Washington has reportedly hastened the delivery of the 31 promised M1 Abrams main battle tanks to Ukraine, but they will supposedly not be ready before sometime later this year. A dozen or so British Challenger 2 tanks have already arrived, while most of the German-made Leopard tanks are still being refurbished.
Kiev's supply of 155-millimeter artillery shells was down to 9,800 as of March 1, but the US delivered another 30,000 over the next 12 days. At this point, the Times noted, the Ukrainian appetite for artillery ammunition is "essentially limitless" while the EU and US industry will "take years to catch up with the demand."
According to the outlet, the US has only "offered" to supply Ukraine with Ground Launched Small Diameter Bombs (GLSDB), which have a range of around 140km, noting that "they must first be built, and production of even a small batch could take months." Meanwhile, there have been reports of the GLSDB already being used – and intercepted by Russian air defenses.
The Pentagon has never officially confirmed the authenticity of classified briefing slides that surfaced on social media earlier this month. At an April 10 White House briefing, National Security Council spokesman John Kirby told reporters that the documents were "not intended for public consumption" and had "no business" being "on the front pages of newspapers or on television."
Over the next several days, the Times and Washington Post teamed up with the Western-funded "open source investigations" outfit Bellingcat to track down the source of the documents. Jack Teixeira, a Massachusetts Air National Guard airman, was identified by the Times and subsequently arrested by federal agents. Following his arrest, the Times, Post, and other publications began reporting on the alleged contents of the documents trove.
You can share this story on social media: