Russian forces intercept US-supplied smart bomb – MOD
Moscow's military says it has for the first time neutralized a GLSDB guided missile during the campaign in Ukraine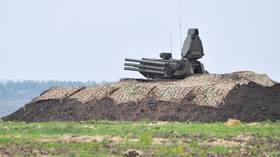 Russian troops have shot down a long-range Ground-Launched Small Diameter Bomb (GLSDB) in Ukraine, the Ministry of Defense said on Tuesday. It is the first time Moscow has reported downing such a weapon.
In a statement, the ministry said that Russian air defenses "had intercepted 18 HIMARS [High Mobility Artillery Rocket System] missiles and one GLSDB guided missile."
While Russian forces have on numerous occasions thwarted attacks by US-supplied HIMARS, it is the first time the ministry has reported the destruction of a GLSDB smart bomb. The munitions were promised to Ukraine by US President Joe Biden in early February as part of a $2.17 billion military assistance package. In total, since the start of the conflict, the US has committed more than $32.5 billion in security aid to Ukraine.
The GLSDB, which is made by Sweden's SAAB Group and US-based Boeing, can hit targets at up to 150 km, making it one of the longest-range weapons in Ukraine's arsenal. It can be launched from ground-based missile systems such as the M270 and HIMARS.
Moscow has repeatedly warned the West that any deliveries of long-range weapons are a "red line," and that any arms shipments make it a direct participant in the conflict. Last month, Russian President Vladimir Putin warned that "everyone should understand" that the longer the range of Western weapons systems being delivered to Ukraine, the farther Russia will be forced to move the threat away from its borders.
You can share this story on social media: