Suspected Pentagon leaker charged
Jack Teixeira was accused of unauthorized removal, retention, and transmission of classified US national defense information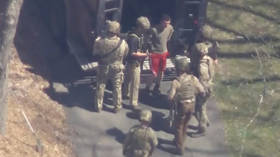 Jack Teixeira, the US airman suspected of leaking hundreds of classified documents online, appeared for the first time in a Boston court on Friday.
The alleged leaker faced formal charges of unauthorized removal, retention, and transmission of classified national defense information.
Teixeira, an enlisted airman first class and member of the 102nd Intelligence Wing based in Cape Cod, Massachusetts, was arrested at his home by the FBI on Thursday.
The leaked Pentagon documents had been circulating online for weeks already before drawing the attention of the media – and of the US government – last week. The documents, which were color-printed and then photographed, ending up being uploaded to a gaming chat server.
The leak prompted a large-scale intra-department investigation, with the Pentagon reportedly having reduced the number of people on government-wide distribution lists to receive classified information. A significant part of the trove of documents related to the US and NATO war-planning effort in Ukraine, and included data on arms deliveries, training schedules, and estimates of losses sustained by both Moscow and Kiev, among other information.
The Pentagon has neither confirmed nor denied the authenticity of the leaked documents, acknowledging only it was taking the situation "very seriously" and that some of the materials were "similar in format" to its intelligence briefings. Multiple US and foreign officials, however, have argued that some of the files appeared to be doctored or outright fake.
You can share this story on social media: