FBI arrests alleged Pentagon leaker
The suspected source's identity was revealed by the New York Times, which worked with US government-funded online investigators to identify him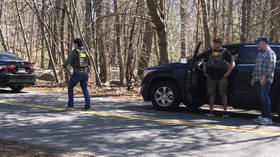 Armed FBI agents have arrested a 21-year-old military reservist believed to be behind the leaking of classified Pentagon briefings, including on the conflict in Ukraine. The government was assisted in its manhunt by the same media organizations that published the contents of the files.
Attorney General Merrick Garland confirmed the arrest of Jack Teixeira on Thursday afternoon, shortly after the FBI announced that its agents had conducted an "authorized law enforcement activity" at his home in North Dighton, Massachusetts.
Earlier on Thursday, the New York Times (NYT) identified Teixeira as the figure responsible for posting hundreds of classified military documents on a Discord server where the paper said "about 20 to 30 people, mostly young men and teenagers, came together over a shared love of guns, racist online memes and video games."
Teixeira, a member of the intelligence wing of the Massachusetts Air National Guard, reportedly came across the documents while in work.
The documents were then posted on the wider internet by some of the group's members, and reported on by the mass media. Although the NYT published a number of stories based on the files, it opted not to protect its source and instead outed Teixeira after partnering with "open source intelligence" outfit Bellingcat to identify him.
Bellingcat is funded by multiple western states and has a history of working on investigations that suit the policy priorities of the US government.
The files posted online by Teixeira revealed that US and NATO special forces are active in Ukraine, that Ukrainian casualties are higher than publicly acknowledged by US officials, that Kiev's forces are low on ammunition, and that the US has spied on its allies throughout the conflict. Other documents in the collection contained "sensitive" material related to Ukraine, China, the Middle East, and terrorism.
The Pentagon has neither confirmed or denied the documents' authenticity, but has acknowledged that some of the material is "similar in format" to its intelligence briefings. Some US and foreign officials have claimed that several of the files are false or doctored.
The White House has asked the US media not to publish any damaging revelations from the leak. Mainstream outlets have mostly complied, with the Washington Post joining the New York Times in attempting to track down the source instead. Immediately prior to the Times naming Teixeira, the Post identified him as a "young, charismatic gun enthusiast" who worked inside a secure facility on a military base.
Teixeira was arrested "without incident," Garland said. He will be arraigned in a federal court in Massachusetts, the attorney general added.
You can share this story on social media: