Kiev outraged over Pentagon leaks – Politico
US intelligence documents appeared to downplay Ukraine's chances of a successful counteroffensive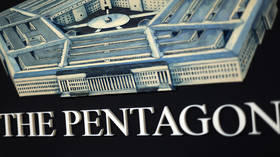 Senior officials in Kiev are "pounding their fists" over leaked US intelligence that appears to cast doubt on Ukraine's ability to successfully mount a spring counteroffensive, Politico claimed on Wednesday.
According to the outlet, the anger stems from an assessment supposedly made by the Pentagon in February that claimed Ukrainian forces would only be able to make "modest territorial gains" in the long-anticipated operation.
Kiev has reportedly argued that the leaked documents, which also include alleged US intelligence on other aspects of the conflict with Russia, offer more proof that Washington underestimates Ukraine's military capabilities.
"The same people who said Kiev would fall in three days are now leaking harmful and equally ridiculous information ahead of an offensive critically important for the entire free world," a source close to senior officials in Kiev told Politico.
An unnamed Ukrainian defense official also told the outlet that "there are some people who continue to be hesitant" about the chances of Kiev's expected counteroffensive succeeding. The source insisted that pessimistic projections are "not the truth," and argued that the leaks cast doubt on America's determination to back Kiev in its effort to retake former territories.
Politico claims a third Ukrainian official has confirmed that frustration is widespread in Kiev, although all three sources chose to remain anonymous.
At an official level, Ukrainian Foreign Minister Dmitry Kuleba said on Twitter that US Secretary of State Antony Blinken had personally called him on Tuesday to affirm "ironclad US support." The US diplomat "vehemently rejected any attempts to cast doubt on Ukraine's capacity to win on the battlefield," Kuleba added.
According to the leaked documents, as well as previous statements from officials in Kiev and Washington, Ukraine is planning to launch a major counteroffensive within the next few weeks. The ultimate goal of the operation is to capture territories that joined Russia last autumn, while cutting off Moscow's land access to the Crimean Peninsula.
Even before the alleged classified documents appeared online, a number of Western officials publicly doubted Kiev's chances of success, citing a lack of manpower, supplies, and logistics. US Joint Chiefs Chairman General Mark Milley has repeatedly questioned Ukraine's ability to resolve the conflict through a military victory in the near term.
Nevertheless, Kiev has urged its Western allies to continue sending money and weapons, even if the offensive does not achieve all of its objectives.
You can share this story on social media: