WaPo makes claim over source of Pentagon leaks
A young man working on a US military base posted the documents for several months in a private Discord group, according to the newspaper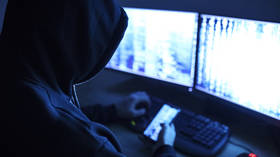 A gun enthusiast in his twenties who worked on a US military base is the person behind the latest leak of sensitive defense documents, the Washington Post alleged on Wednesday. The newspaper claims to have made contact with some of the members of a closed Discord group where the man supposedly originally posted the materials.
The Post's article mainly draws on interviews with two alleged members of the 'Thug Shaker Central' Discord group, who spoke to reporters on condition of anonymity. One of them is said to still be in his teens.
The supposed leaker, who went by the nickname 'OG,' was the alleged leader and administrator of the group. Discord is a messaging platform popular with gamers.
The man reportedly began posting classified materials late last year, first uploading hand-typed copies before switching to uploading photos.
The anonymous teenager recounted to the Post how OG told the group members that he had brought the secret documents home from his job on a "military base."
The man allegedly spent at least some of his workday inside a secure facility, into which cell phones or other electronic devices were not allowed to be brought. This is supposedly where classified materials housed on government computer networks could be accessed.
The Post claims to have seen approximately 300 photos of classified documents, the majority of which have not yet made it into the public domain.
OG shared with his group, among other things, "detailed charts of battlefield conditions in Ukraine and highly classified satellite images of the aftermath of Russian missile strikes on Ukrainian electrical facilities," according to the article.
Others reportedly featured the potential trajectory of North Korean ballistic nuclear missiles, as well as photographs of the Chinese "spy balloon" apparently taken from a spy plane at close range back in February.
According to those interviewed, the classified materials made it outside the closed group on February 28, when one of the members shared several dozen photographs on another Discord server.
The documents have been making rounds online ever since and recently have attracted a great deal of media and government attention. While US officials have refrained from either confirming or denying the materials' veracity, they have claimed that some of them "appear to contain sensitive and highly classified material."
The papers suggest, among other things, that Washington routinely spies on some of its closest allies. They also purport to detail severe ammunition shortages faced by the Ukrainian military ahead of its anticipated counteroffensive.
The US Department of Justice has launched a criminal investigation into the leak, with the FBI assigned to the case.
You can share this story on social media: