NYT 'outs' alleged Pentagon leaker
Bellingcat helped in the hunt to identify the source of the classified document leak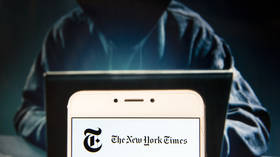 The US military's classified briefings on Ukraine and other places were allegedly obtained by a young member of the Massachusetts Air National Guard, but were shared beyond a closed online group by an unnamed teenager, the New York Times reported on Thursday.
The outlet named the alleged leaker as Jack Teixeira, "a 21-year-old member of [the 102nd] Intelligence Wing of the Massachusetts Air National Guard." This was a result of a search through social media posts and military records, as well as conversations with teenage members of the group "Thug Shaker Central" on Discord, a messaging platform popular with video gamers.
The group was described as a place where "about 20 to 30 people, mostly young men and teenagers, came together over a shared love of guns, racist online memes and video games."
Neither of the four group members the Times reporters spoke with would name the man they only called "the OG" but the outlet claims to have identified him by "a trail of digital evidence."
The Times also tracked down Teixeira's home in Massachusetts and spoke with his mother. She confirmed his membership in the Air National Guard but would not say any more.
While the outlet blames the airman for posting the classified documents in the Discord chat, the group members say Teixeira was not responsible for them getting out. Another group member, a teenager, had posted them on a public forum, they said.
"This guy was a Christian, anti-war, just wanted to inform some of his friends about what's going on," said another member of the group, identified only as a 17-year-old high school graduate. "We have some people in our group who are in Ukraine. We like fighting games, we like war games."
The existence of the group and the "OG" character was reported by the Washington Post earlier in the day. While the Post article had two bylines, the Times had eight – along with four more contributors credited at the end. The top-billed name was Aric Toler, an employee of Bellingcat.
The controversial "open source intelligence" outfit arose during the Syrian conflict to push pro-Western narratives, has received funding from multiple Western governments, and was accused last summer of working with the Ukrainian government on a fighter jet heist.
The documents that made their way to the public showed internal intelligence assessments of the situation in Ukraine. Multiple officials, US and foreign, have challenged some of the claims in the documents as false or doctored. The Pentagon has not officially acknowledged the files as authentic, but launched a crackdown on intelligence distribution and vowed to hunt down the leaker. The White House has asked the US media not to publish any of the revelations, arguing they don't belong in the public domain. The outlets dutifully complied and focused on outing the source instead.
You can share this story on social media: