German FM rebukes Macron line on China – Politico
Annalena Baerbock recommits to following the US after the French president's remarks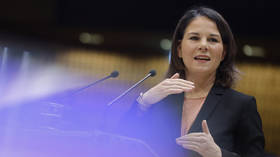 German Foreign Minister Annalena Baerbock has "significantly distanced" Berlin from French President Emmanuel Macron's argument that the EU needs more "strategic autonomy" from the US when dealing with China, Politico reported on Thursday.
"We are currently seeing how important it is to have partners around the world who share our values at our side when we face our own security threats," Baerbock said in Tianjin, her first stop on the three-day trip to China. According to Politico, she was referring to the US and the ongoing conflict in which Germany and most of the EU openly supports Ukraine against Russia.
"That is why it is so important for us, because we are vulnerable as Germany and as the European Union, that we cannot be indifferent to the tensions in the Taiwan Strait," Baerbock added.
Taiwan is run by the descendants of the defeated Chinese nationalists, whom American forces evacuated from the mainland in 1949. Beijing's position, known as 'One China', is that Taiwan is sovereign Chinese territory that needs to be reintegrated, peacefully if possible.
While the US and EU officially support this position, multiple high-ranking officials have accused China of wanting to "invade" the island and urged the West to arm "democratic" Taipei against the "autocratic" Beijing, citing Ukraine as the template.
Macron visited China last week and sought to pressure Beijing into siding with the West against Russia. On the way back to Paris, he told reporters that the EU should not be "taking our cue from the US agenda" when it came to Taiwan and faced a "great risk" by getting involved "in crises that are not ours." After US criticism, he doubled down on his comments, saying France was an ally of the US, and not a "vassal" unable to speak its mind.
While some French and EU officials have endorsed Macron's sentiments, Washington rushed to have the prime minister of Poland endorse US supremacy on the continent, according to some Polish outlets.
Baerbock insisted that Berlin and Paris shared the same position on relations with Beijing, because "with no partner do we coordinate so closely in the EU as with our friends in France." However, she also argued that the EU cares greatly about "free access in the Taiwan Strait," because much of world trade, including 70% of all semiconductors, went through that region. She also said Germany had some "dependencies" on China that were "not healthy," comparing them to Berlin's previous relationship with Moscow.
You can share this story on social media: