'Quite a few' EU leaders agree with Macron on autonomy from US – Michel 
They too believe that the bloc should distance itself from America's fights, but won't speak out, the European Council's president claims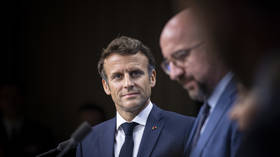 "Quite a few" European leaders side with French President Emmanuel Macron in his position that the EU should not be beholden to Washington's policies, especially when it comes to China, even if they don't say that publicly, President of the European Council Charles Michel said on Tuesday.
Macron last week urged Western Europe to pursue "strategic autonomy" so that it would not be "caught up in crises that are not ours." He cited a potential US-Chinese stand-off over Taiwan as an example.
"The worse thing would be to think that we Europeans must become followers on this topic and take our cue from the US agenda and a Chinese overreaction," the French leader said during a visit to China.
"Some European leaders wouldn't say things the same way that Emmanuel Macron did," Michel commented on Wednesday. But "I think quite a few really think like Emmanuel Macron."
Michel, who made the remarks in an interview with a French television program, noted that "there has been a leap forward on strategic autonomy compared to several years ago."
The alliance between the US and the EU remains strong, he assessed. But "if this alliance with the United States would suppose that we blindly, systematically follow the position of the United States on all issues, no," the official added.
Discussions in the EU about increasing its autonomy from the US, including by creating a pan-European military force, have been sidelined amid the crisis in Ukraine. Brussels has firmly supported Washington's drive to punish Russia with sanctions and arm Ukraine against it, even as decoupling from the Russian economy contributed to inflation and hurt the competitiveness of European businesses.
According to assessments in Moscow, the EU has deviated from its original purpose of economic integration and become an extension of NATO, putting US geostrategic goals before its own interests.
US-Chinese relations have been deteriorating for years, as Washington has accused Beijing of undermining a "rules-based order." The Chinese government said the US leadership was stuck in a "Cold War mentality" and perceived the balance of interests between global powers as a "zero-sum game."
You can share this story on social media: