US senator warns Europeans over 'picking sides'
The EU may have to deal with the Ukraine conflict without Washington's help if it acts soft towards China, Marco Rubio has threatens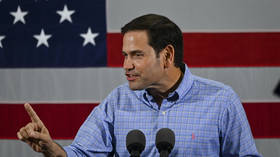 America's Western European allies may end up having to resolve the Ukraine conflict on their own if they do not wish to "pick sides" in Washington's standoff with China, US Senator Marco Rubio has warned.
The Florida Republican sharply criticized French President Emmanuel Macron, who has argued that European states should not risk being dragged into a confrontation over Taiwan.
"The question Europeans need to answer … is it in our interest to accelerate [a crisis] in Taiwan? No," Macron told journalists, after wrapping up his three-day trip to China.
"The worse thing would be to think that we Europeans must become followers on this topic and take our cue from the US agenda and a Chinese overreaction," Macron added.
Rubio responded with a video on Twitter. "This is a good moment for us to ask Europe: Does Macron now speak for all Europe? Is Macron now the head of Europe?" he said. "Because if he is, then there's some things we are going to need to change."
The politician claimed that China was "very excited" about Macron's comments. Rubio argued that European countries were still reliant on Washington's defense capabilities, while "we are spending a lot of our taxpayer money on a European war [in Ukraine]."
If their position now is, 'We're not going to pick sides between the US and China over Taiwan', then maybe we shouldn't be picking sides either. Maybe we should basically say, 'We're going to focus on Taiwan and the threats that China poses, and you guys handle Ukraine in Europe'.
On Friday, Beijing launched three-day naval maneuvers around Taiwan in response to the visit of Tsai Ing-wen, the island's president, to the US. Tsai met with House Speaker Kevin McCarthy, who pledged to continue to support Taipei.
Beijing considers Taiwan, which has been ruled by a separate government since the late 1940s, as its territory and views third country contact with Taipei officials as meddling in its domestic affairs. In August, China's People Liberation Army held snap drills in the Taiwan Strait after then-House Speaker Nancy Pelosi made a visit to the island.
The US formally upholds the 'One China' policy, refraining from establishing official diplomatic relations with Taipei. At the same time, Washington has sold weapons to Taiwan and promised to defend it in case of an attack from the mainland.
During his visit, Macron said China could be a major factor in achieving a lasting peace between Ukraine and Russia. Chinese President Xi Jinping reiterated that Beijing was ready to play "a constructive role" in ending the conflict.
You can share this story on social media: