EU country wants depleted uranium factory – PM
Mateusz Morawiecki is eager to manufacture the toxic tank ammunition in Poland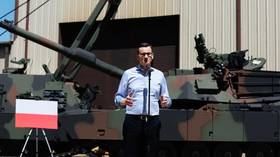 Poland wants to be the service center for all American M1 Abrams tanks in Europe and even make the depleted uranium (DU) ammunition for their guns, Prime Minister Mateusz Morawiecki said on Wednesday.
After meeting Vice President Kamala Harris in Washington on Tuesday, Morawiecki traveled to Anniston, Alabama. The community of 20,000 residents is home to the US Army depot that services all tracked vehicles, including the Abrams tanks.
"I want a service center for Abrams tanks for the whole of Europe, for maintaining their battle readiness, to be located in Poland," Morawiecki told Polish journalists who followed him to Anniston. "This is possible, I am in talks regarding this."
Poland is also "striving" to have a factory where DU ammunition can be produced, he added.
The dense metal is used by US and UK tankers as an armor-penetrating round. Its debris is highly toxic when inhaled, and numerous NATO troops have complained of a spike in cancer rates after spending time in places where DU ammunition had been used, such as Iraq and the former Yugoslavia.
After meeting with Harris on Tuesday, Morawiecki told Polish media that he asked for an "additional presence of several thousand soldiers," as well as more bases and warehouses for US equipment and weapons being sent to Ukraine. Poland is currently a logistics hub for the NATO effort to arm Kiev, though the US-led bloc insists it is not directly involved in Ukraine's conflict with Russia.
Warsaw has sought a permanent US presence for years, trying to woo then-President Donald Trump in 2018 with an offer to name a base after him.
Poland has ordered 250 new Abrams tanks and another 116 modernized tanks, to replace almost all of its Soviet-era T-72s it had turned over to Ukraine. The first 14 tanks are expected to arrive in June, Morawiecki said, describing them as an "armored curtain" that will protect his country.
Polish media have also shed some light on Morawiecki's puzzling presence in the US while President Joe Biden is out of the country. The visit, according to the news portal Interia, was "suddenly accelerated" by the Americans as a counter to French President Emmanuel Macron's trip to China last week.
Morawiecki's trip is "gaining even more importance" after Macron's comments that the EU won't be a "vassal" of Washington when it comes to confronting China over the status of Taiwan, the outlet said.
You can share this story on social media: