France won't be US 'vassal' – Macron
The French president has doubled down on his statements on Taiwan after American criticism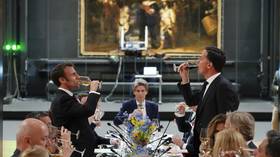 Paris is an ally and not a "vassal" of Washington, French President Emmanuel Macron insisted on Wednesday. He was defending his recent comments about the EU needing "strategic autonomy" in the face of rising tensions between the US and China.
"Being an ally does not mean being a vassal... doesn't mean that we don't have the right to think for ourselves," Macron said in Amsterdam at a joint press conference with Dutch Prime Minister Mark Rutte.
Asked for the French position on Taiwan, Macron said Paris supports the status quo, meaning the "One China policy and the search for a peaceful resolution to the situation."
Returning from his trip to China on Sunday, Macron argued that the EU can't just be "America's followers," and that it is not in the bloc's interest to stoke tensions over Taiwan. "The worst thing would be to think that we Europeans must become followers on this topic and take our cue from the US agenda and a Chinese overreaction," he told reporters.
The remarks earned a swift rebuke from US Senator Marco Rubio, a Florida Republican on the foreign affairs committee, who suggested Washington might leave the EU to handle the Ukraine conflict by itself.
Taiwanese Parliament Speaker You Si-kun on Tuesday argued that France had forsaken its motto of 'liberty, equality, fraternity', and that advanced democracies should not "ignore the lives and deaths of people in other countries," adding that Macron's comments left him "puzzled."
Meanwhile, French Finance Minister Bruno Le Maire said that Macron was "perfectly right to demand European independence and sovereignty," while the president of the European Council, Charles Michel, noted that "quite a few" leaders of EU countries think like Macron, even though they "wouldn't say things the same way."
When asked about the French president's comments on Monday, the US State Department said France is a long-standing ally and that occasional disagreements do not detract from the "deep partnership" with Paris. As for the EU position, a State Department spokesman cited a recent speech by the bloc's president, Ursula von der Leyen, which described China as "a national and economic security threat," and said there is "immense convergence" between Washington and Brussels on the matter.
You can share this story on social media: