US Congressman alarmed by Tesla China deal
Elon Musk's electric vehicle company is opening a Megapack battery factory in Shanghai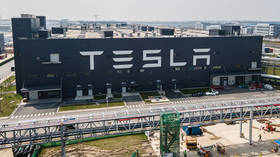 Republican US congressman Mike Gallagher is "concerned" about Tesla's cozy relationship with China, he told Reuters on Monday, after CEO Elon Musk announced his company was building a new Megapack battery factory in Shanghai.
"Tesla seems entirely dependent a) on the largesse of the federal government via tax breaks and b) upon access to the Chinese market," Gallagher said, describing "the sort of deals they've struck there" as "very concerning."
The Wisconsin congressman, who chairs the House of Representatives' Select Committee on the Chinese Communist Party, conceded that he hoped Tesla would be forthcoming with information about its dealings with Beijing. However, he warned, "if we reach roadblocks and we get to a point where lawyers are getting involved with answers, that's when you start to think about subpoenas."
Responding to a Twitter user's negative comment about Tesla's China business, Musk on Sunday pointed out that his company was "increasing production rapidly in Texas, California and Nevada," insisting that the government subsidies it receives are an industry-wide phenomenon and that if they were removed, "Tesla's competitive position would improve."
The electric car giant's new manufacturing facility will produce ten thousand Megapacks per year, for a total of 40 gigawatt hours of energy, according to Chinese state outlet Xinhua, which broke the news on Sunday. The factory is ideally situated close to Tesla's Shanghai vehicle-manufacturing plant, which recently announced an expansion that will allow it to produce 450,000 more cars per year.
By locating its new Megapack factory in China, Tesla hopes to take advantage of China's dominant position in the battery supply chain to lower the prices of its lithium-ion power units, with an eye toward expanding its battery and solar energy business to the same size as its electric car business.
Tesla's Chinese sales accounted for more than a fifth of its revenue last year, while its Shanghai vehicle factory produced more than half the cars the company sold.
Construction on the Shanghai facility will start in the third quarter of this year and production is expected to begin in the second quarter of 2024.
Gallagher has vowed to "win the new Cold War" against China and has used his committee to attempt to convince the rest of the US of the wisdom of shutting out the economic superpower from certain strategic industries, describing the relationship between the two nations as "an existential struggle over what life will look like in the 21st century."
You can share this story on social media: